Mugler WE ARE ALL ANGELS
Luxferity, 07.10.2022
"Angel is an addictive fragrance born from the childhood memories of a creative whose unique artistic signature has marked an era."
Sandrine Groslier - Mugler Fashion & Fragrance President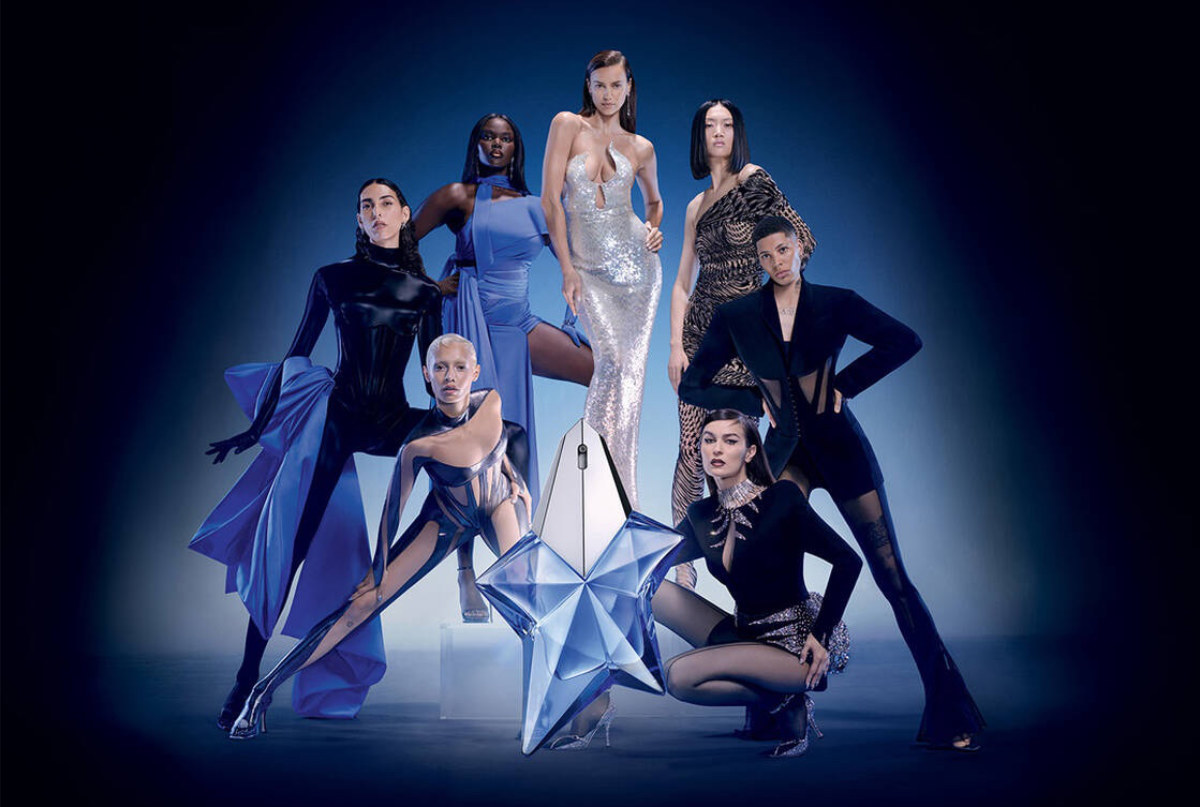 ANGEL IS NEW FOREVER
"For the last three decades, Mugler's fragrances have transgressed convention, defied time and inspired everyone to be whoever they want to be.
An icon and worldwide success since 1992, Angel Eau de Parfum is the embodiment of Manfred Thierry Mugler's avant-garde spirit. Unprecedented when it launched, Angel exudes a timelessly bold, sensual and modern spirit. The affirmation of a boundless freedom.
Immediately recognizable for its unparalleled, ultra-addictive signature, Angel paved the way for a brand new leading olfactory category, and in so doing, also shifted the global fragrance industry forever.

From its sculptural, refillable bottle to the strength of its community – long before the advent of social media – from the expression of a new kind of strong femininity to its iconic campaigns, Angel is a unique fragrance, one that has marked generations since its launch.
This year is Angel Eau de Parfum's 30th anniversary, celebrated with a magnetic new campaign featuring seven inspiring and liberated women. An extraordinary moment for an extraordinary fragrance. Angel is new forever!"
Sandrine Groslier - MUGLER FASHION & FRAGRANCE PRESIDENT
BORN ICONIC

"Angel… The name presupposed a soft, floral, fruity scent… Instead, Angel is powerful, hyper-sensual and very sexy,"Olivier Cresp, perfumer.
In fashion and fragrance alike, Mugler lights up our imaginations with extraordinary creations.
Blending traditional craftmanship and ground-breaking technology, Mugler's architectural silhouettes and powerful olfactory signature redefine the codes of femininity. A pure expression of Manfred Thierry Mugler's avant-garde spirit, Angel Eau de Parfum was the house's first fragrance. Upon its launch in 1992, it transported the world of fragrance into a new era, one of bold and decadent scents, now a leading olfactory category. The fragrance appears, as if supernaturally, out of space, in a celestial bottle: a five-pointed star evoking womanhood, protection and destiny.
A precursor for the last 30 years with its unique praline core, celestial blue juice and addictive notes, Angel is forever a deeply contemporary fragrance. Balancing decadence and pleasure, innocence and sensuality, it carries a paradoxical, complex and versatile vision of femininity that feels more relevant today than ever.
BORN EMPOWERED

Mugler powers a highly enhanced vision of femininity with spectacular, ultra-desirable and immediately recognizable creations, which the world's brightest stars have made their go-to label.
Renowned for boundless creativity, Mugler supports a strong, magnetic, modern and sensual woman, a universal figurehead whose bold vision is shared with the signature fragrances of the house, inspiring everyone to become exactly who they want to be. For Mugler, fragrance is the art of metamorphosis. Angel Eau de Parfum reveals a woman's personality, giving her confidence and playfulness, encouraging her to embrace pleasure, and her very own duality.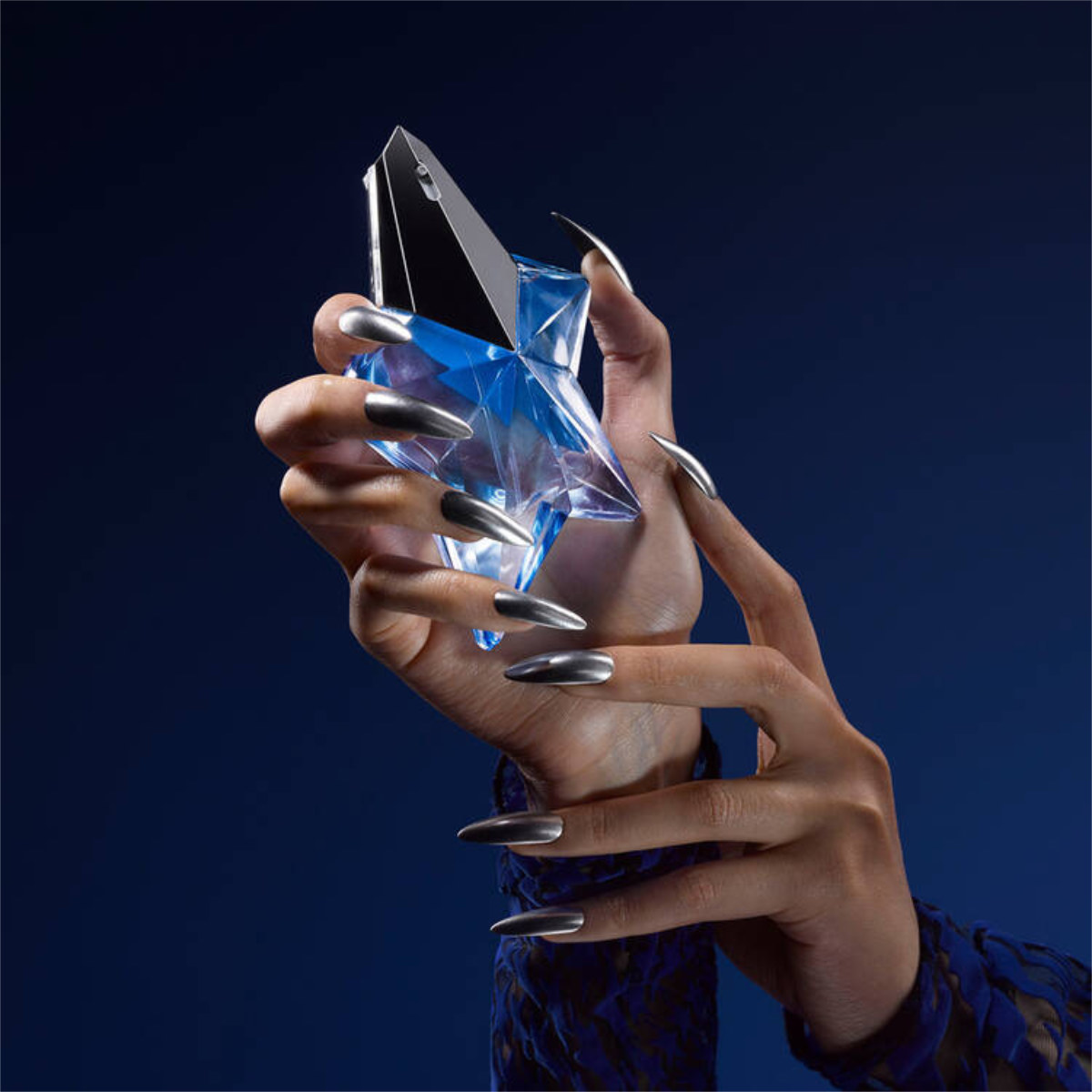 BORN ADDICTIVE

"I wanted the sensuality of this scent to be such that you might want to eat the person you love who wears it,"Manfred Thierry Mugler.
In 1992, Manfred Thierry Mugler brought a crazy dream to life: to create an olfactory signature so extraordinary that it would give women who wear it a fascinating and unique new vibration.
An over-the-top scent born from the creative's extravagant imagination and childhood memories – at a time when fragrance was mostly minimal and subtle – Angel breaks with convention. It is the first scent containing no floral notes, instead bursting with overdoses of high-quality ingredients.
As the first decadent amber fragrance, Angel Eau de Parfum has paved the way for limitless pleasure, by deploying three ultra-addictive notes:
- A bright and fresh celestial note of Calabrian Bergamot.
- A delicious note of bold and decadent praline.
- A voluptuous note of patchouli, contrasting the carnal touch of Bourbon vanilla.
An entryway into the world of Angel, this exclusive architecture instantly propels us into a unique, sensual dimension. It's boundness freedom, embodied by the celestial blue juice of Angel Eau de Parfum, a hue chosen because it was Manfred Thierry Mugler's own favourite.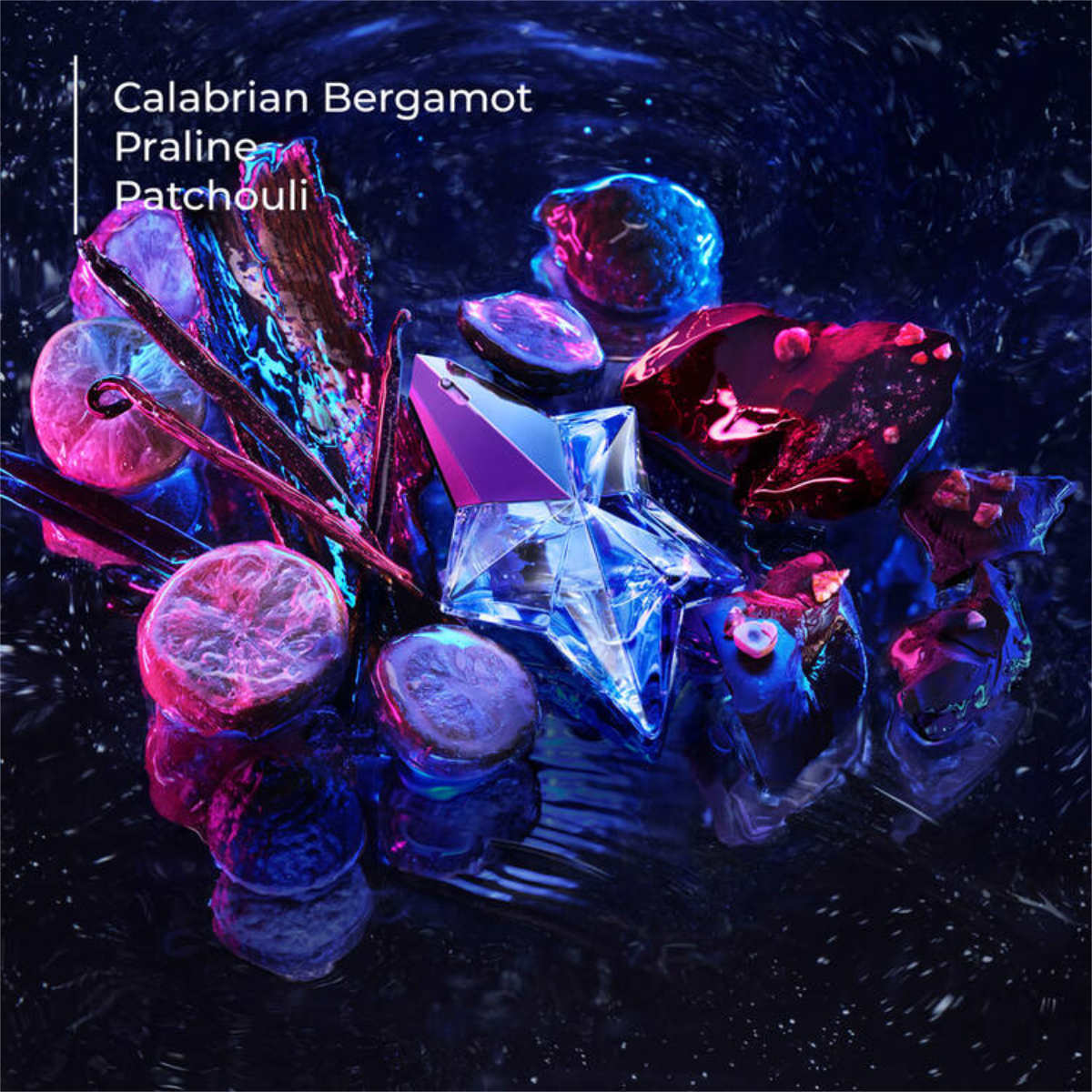 3 questions to Olivier Cresp, perfumer for Angel Eau de Parfum (with Quest at the time, now with Firmenich)

• Paving the way with innovative olfactory signatures is incredibly rare. How did you create the first decadent scent of this kind on the market?
I met Manfred Thierry Mugler. He told me about his travels to the East, where he photographed the red stars he kept seeing everywhere… and always with a blue sky as the background. He told me about his happy childhood in Alsace, about his grandmother and the fairgrounds he visited, the smell of roasted peanuts, candied apples, cotton candy… That same evening, I went to buy lots of candy myself, and I noticed they all contained cacao or honey, it was the one thing they all had in common. I decided to add a sweeter note to my vanilla patchouli blend… and it worked wonderfully well.
• How did your collaboration with Manfred Thierry Mugler go?
I saw him periodically, it felt easy. When we began working on the fragrance, there was no name, no bottle, no color… but we got started together and everything fell into place organically. Manfred Thierry Mugler had done a book about the color blue, he was obsessed with it. It was obvious to us that this fragrance would have to be blue, from the packaging to the actual liquid. For the bottle, it felt logical also: Manfred Thierry Mugler always wore a stunning star-shaped signet ring on his left hand. And he found the name, Angel. It presupposed a soft, floral, fruity scent… Instead, Angel is powerful, hyper-sensual and very sexy.

• How is Angel still so modern after 30 years?
Angel isn't only a modern fragrance, it's timeless, a classic, iconic. When Angel was released in 1992, young women instantly connected with it. It's a fragrance you can't turn back from. Our customers have remained very loyal to it, they share it with their friends, who in turn share it with theirs. The formula has remained straightforward, simple, even minimal. It only contains about 20 ingredients, including delicious notes of kiwi, blackcurrant, which contrast with the patchouli. It's spectacular!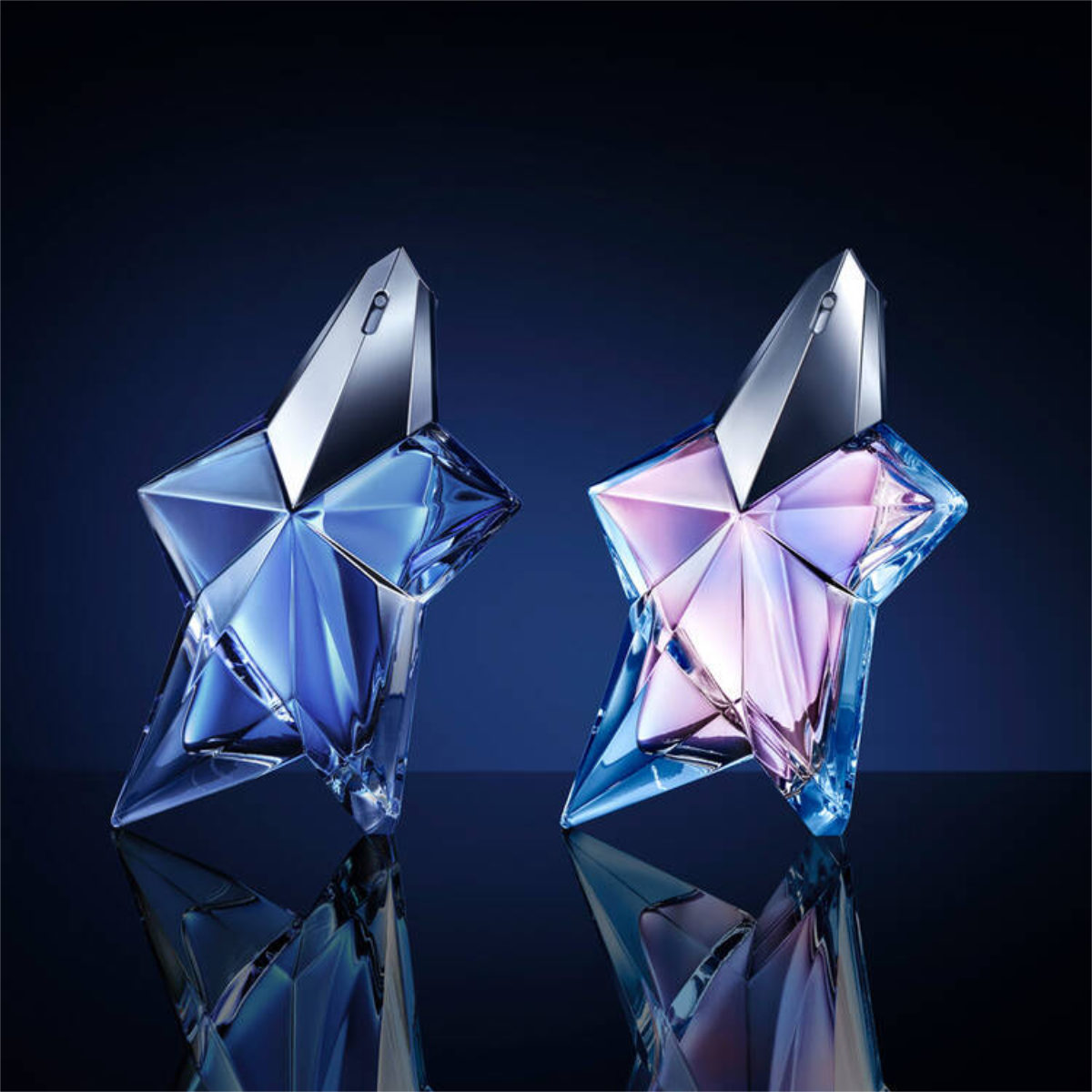 BORN ARTY
Renowned for its bold and creative vision, in fashion and fragrance alike, Mugler dresses its scents in spectacular bottles that blend seamlessly with its silhouette.
First-born of the Etoile Collection, the iconic Angel Eau de Parfum bottle is a challenge both aesthetically and technologically. Two years of development were required, alongside master glassware artisans from the Brosse house, in order to bring to life Manfred Thierry Mugler's vision and high standards. A prodigious celestial object, the shiny blue glass, star-shaped construction and facetted arms, chiselled by hand like a jewel, make it a unique sculpture, a timeless 320g masterpiece, designed to liberate Angel's power of seduction. A sensual object to hold, or display like a star fallen from the sky, the bottle evades verticality to evolve freely in its space.
BORN REFILLABLE IN 1992

With Angel's launch in 1992, Mugler brought back the ancestral tradition of the Fragrance Fountain: the Mugler Fountain was born. A turning point which will change the world of fragrance forever. The Mugler Fountain paved the way to a more sustainable and accessible fragrance industry, providing a more personalized experience. In its semi-artisanal star-shaped bottle, the addictive fragrance contains noble ingredients, making Angel a precious fragrance since its release.
Mugler continues to innovate on this age-old tradition of the Fragrance Fountain, as a way to allow Mugler addicts to hold onto their beloved bottles. Angel Eau de Parfum, Alien Eau
de Parfum and Alien Goddess Eau de Parfum are all refillable at the Fountain, and every other Eau de Parfum fragrance can also be refilled at home, via individual refills. As such, Mugler offers the most extensive refill service on the market, as part of a commitment to a more sustainable beauty industry and a reduced environmental footprint.
These sustainability initiatives speak for themselves: every 25 seconds, a Mugler bottle is refilled somewhere in the world1, and thanks to the Mugler Fountain, 1.5 million bottles and
380 tons of glass are saved each year2. Refilling an Angel fragrance at the Mugler Fountain means 100% reduction in use of metal, 83% reduction in plastic, 74% reduction in glass and 68% reduction in cardboard3.
Refilling a fragrance at home also has an environmental impact. The refill is made from 20% recycled glass and contributes to a reduction of up to 50% in use of plastic, cardboard and glass4.
Beyond the object itself, the Mugler Fountain is a unique ritual, offering a special bond between customers and beauty advisors – the brand's best ambassadors. A damaged bottle or new parts can be replaced, and loved forever. And like any precious stone, every refillable bottle is fully traceable. A unique service to reflect the brand's unique DNA.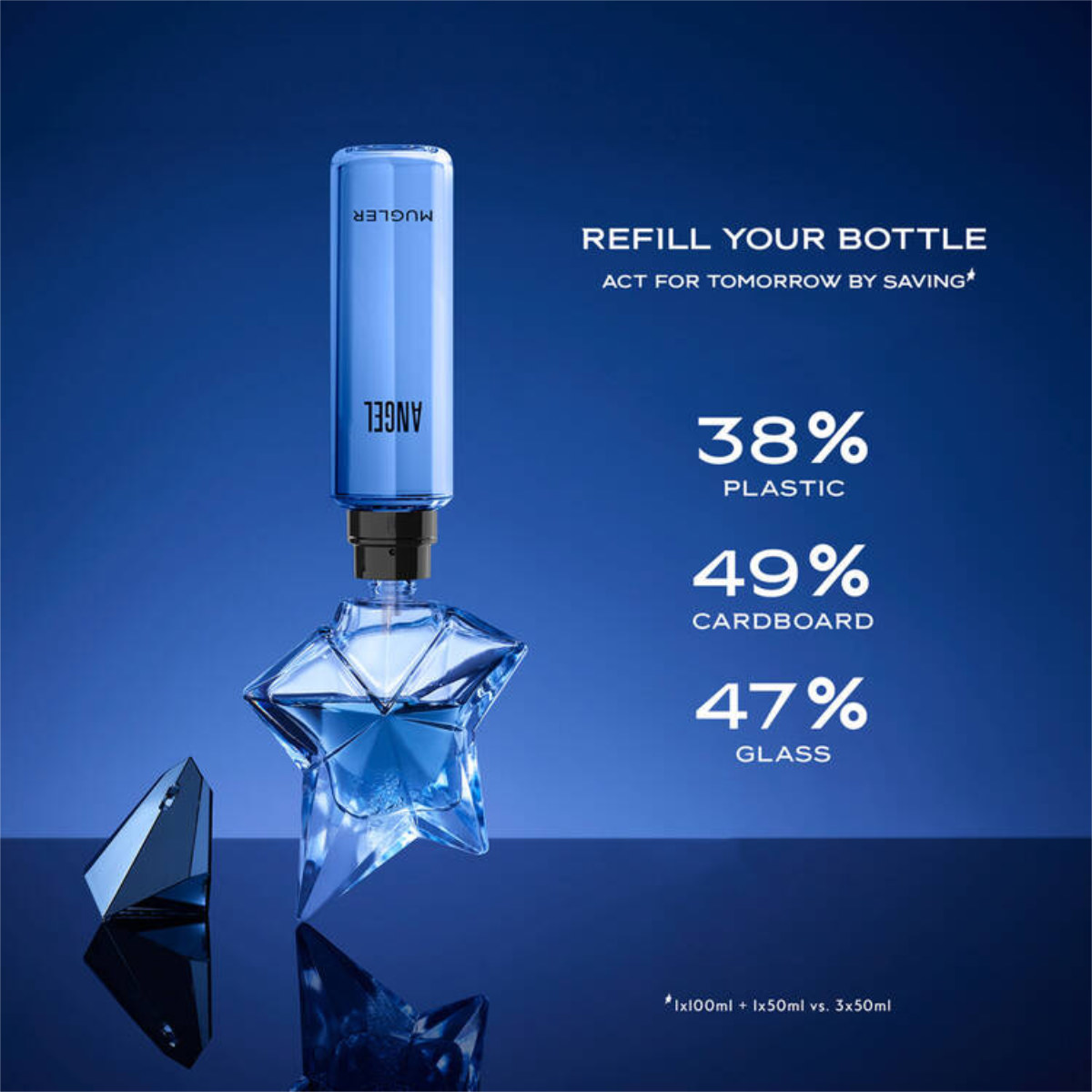 BORN LOYAL

Since its creation, Mugler has built unique relationships with women.
A pioneer of open and collaborative communication long before the advent of social media, Mugler is in permanent conversation with its most loyal clients. Inviting each client to share her feedback, her desires, her feelings about the house has been one of Mugler's most meaningful initiatives over the last 30 years. "The Circle" brings together a community of kind, diverse and passionate women, in line with Mugler's over-arching vision. Access to the community is done through a simple sign-up on Mugler.com, or via a unique code printed inside each fragrance package. The digital space is constantly evolving, and includes information about the brand, exclusive offers, special previews, and more. This virtuous ecosystem reinvents the way consumers can interact with the brand, sharing in the spirit of innovation and luxury that Mugler stands behind.
1 L'Oréal Luxe data, 2014-2019
2 L'Oréal Luxe data, 2019
3 The purchase of a 100ml Angel refillable bottle and its refill at the Fountain allows to save 100% metal, 83% plastic, 74% glass and 68% cardboard comparing to a purchase of two new 100ml Angel bottles.
4 Every Angel 100ml refill bottle used allows to save 53% plastic, 49% glass and 53% cardboard comparing to the purchase of 3 new Angel 50ml bottles.
BORN FOREVER NEW

Today, Angel Eau de Parfum celebrates 30 years of bold and daring femininity, in a new contemporary and hypnotic campaign.
Created with Mugler Fashion Creative Director Casey Cadwallader, the Angel Celebration campaign exudes the fragrance's sensuality in a collective sense of joy and frenetic energy through different personalities. Under the direction of creatives Torso, the campaign unleashes self-expression, women's empowerment and the endless possibilities of metamorphosis and pleasure. We are all Angel.
The cast brings together friends of the house, artists and performers including Irina Shayk – close friend of Manfred Thierry Mugler and Casey Cadwallader – and six other expressions of contemporary femininity: Yilan Hua, the Chinese actress and model; Kai-Isaiah Jamal, poet, activist and model who revolutionizes the notion of gender; Jazelle, aka Uglyworldwide, emblem of generation Z; Nina de Lianin, artist and muse to Manfred Thierry Mugler; Raya Martigny, model and artist; and the voluptuous Khartoum model Ariish Wol. An exclusive and inclusive cast to celebrate an iconic fragrance.
Mugler, a creative force
Mugler defies the laws of time and space through sculptural and versatile works, a powerful act of creation with endless possibilities. A fusion of opposites, the Mugler world is an experimental laboratory. Inspired by imagination and curated by culture, Mugler cultivates an avant-garde approach, and the constant search for innovation combines old and new technologies, with the belief that traditional expertise can be transcended into contemporary creations. Alternative cultures, art and humor serve to clash with existing convention, to democratize fashion and fragrance and make them a platform of individuality and personal fulfillment.
Today, under the ownership of the L'Oréal Group, Mugler is chaired by Sandrine Groslier and, since 2018, the brand's Creative Director Casey Cadwallader.