Moncler inaugurates its travel boutique in the new Istanbul airport
Luxferity, 21.11.2019
On November 4th, 2019, Moncler inaugurates its monobrand boutique at the new Istanbul international airport, the world's largest aviation hub. This opening marks a further step in the Brand's travel distribution network development in the most important airports worldwide and consolidates the Maison's presence in Turkey.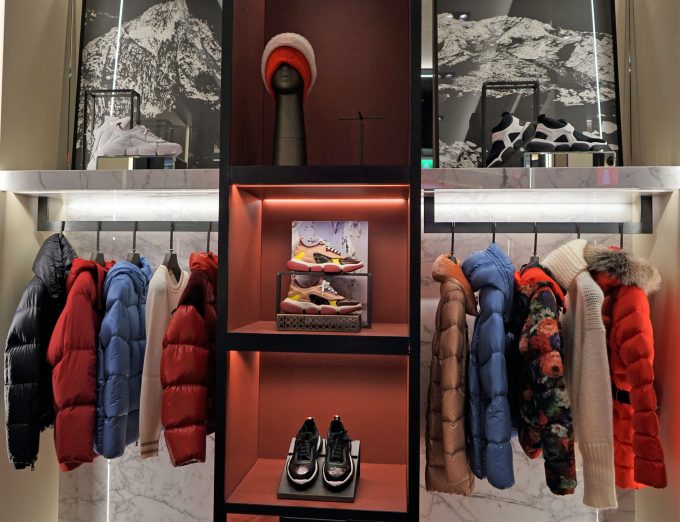 A large facade covered with fine grey Carnico marble marks the entrance into Moncler's newest premises designed with materials of exquisite quality, including black brushed wood boiserie and white Arabescato marble for wardrobes' interiors, with fine details such as red leather, folded niches enhancing the elegance of the space. Red carpets adorn the floor in grey Carnico marble, while the ceiling in silk grey is enriched by a wooden frame. These are the key elements that set the atmosphere of the boutique in pure haute montagne style, in perfect keeping with the Maison's roots. The boutique houses all of Moncler's collection lines.
MONCLER BOUTIQUE
Istanbul Airport Zone 6,
F6-20 Istanbul, Turkey
Moncler was founded at Monestier-de-Clermont, Grenoble, France, in 1952 and is currently headquartered in Italy. Over the years the brand has combined style with constant technological research assisted by experts in activities linked to the world of the mountain. The Moncler outerwear collections marry the extreme demands of nature with those of city life. In 2003 Remo Ruffini took over the company, of which he is currently Chairman and CEO. Moncler manufactures and directly distributes the clothing and accessories collections under the brand Moncler through its boutiques and in exclusive international department stores and multi-brand outlets.