Introducing Dr. Barbara Sturm's Super Anti-Aging Eye Cream
Luxferity, 15.09.2021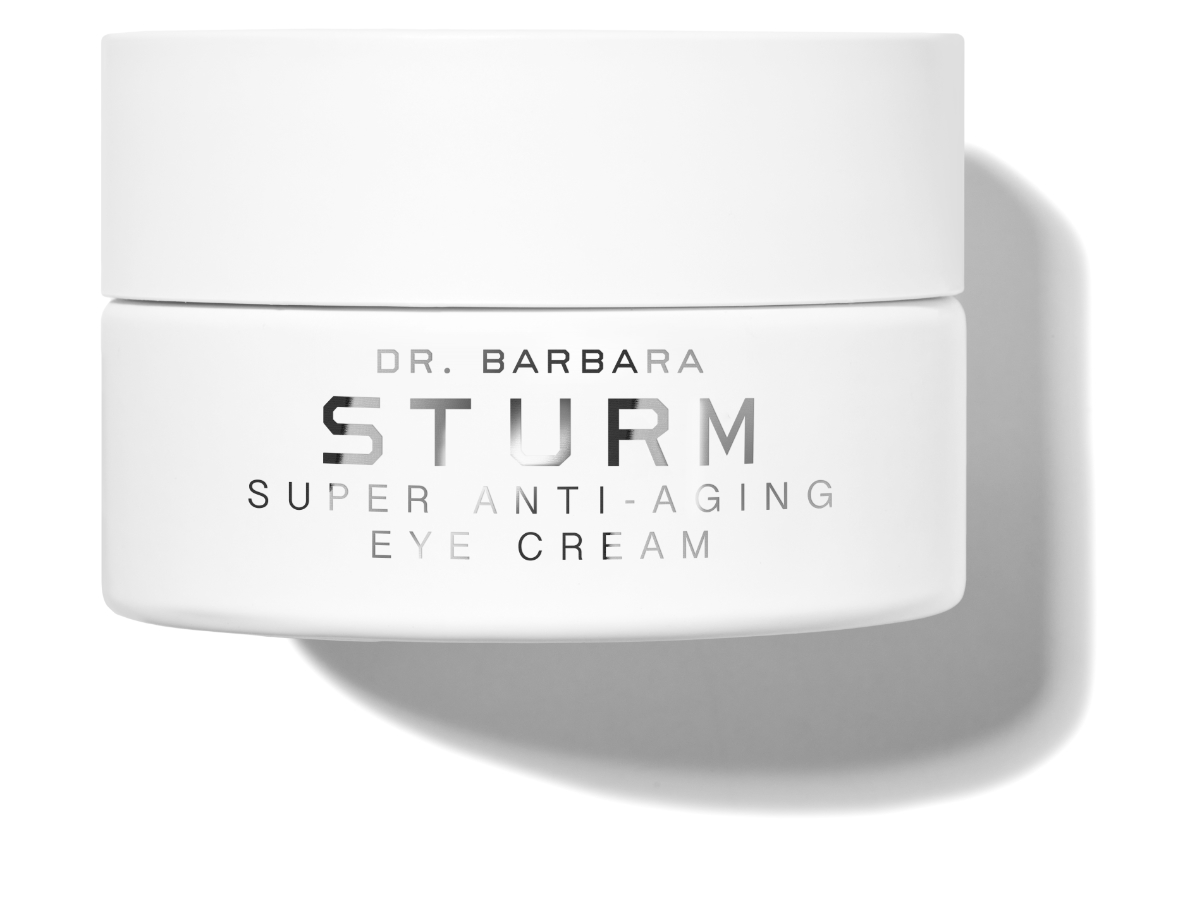 The eye area contains less sebaceous glands and subcutaneous tissue than the skin on the rest of the face and is three times thinner, making it more prone to sensitivity. Puffiness, irritation, dark circles and swelling are some of the most common eye concerns but its delicate nature means it's also more prone to laxity and developing the first signs of aging; namely crow's feet, dehydration and fine lines.

Dr. Barbara Sturm's SUPER ANTI-AGING EYE CREAM is the latest addition to the bestselling SUPER ANTI-AGING COLLECTION. Its high-performance, advanced science formulation is specially developed with potent ingredients that target the visible signs of aging around the eyes and is best suited for more mature skin. Valuable Biomimetic Lipids support the skin barrier and thus the skin's own defense and with regular use, an extract from the Persian Silk Tree reduces the appearance of puffiness and dark shadows and helps lift the upper eye lid. A combination of Biopolymers, Acacia Gum and an ingredient derived from microalgae smooths and firms delicate skin and provides both an immediate and long-lasting effect whilst revitalizing tired-looking eyes. Additionally, White Chestnut Blossom Extract and Red Ginseng help reduce the appearance of wrinkles and leave skin soft and supple, and Hyaluronic Acid has an intensive moisturizing and plumping effect. With regular use, the SUPER ANTI-AGING EYE CREAM leaves the eye area refreshed, regenerated and youthful-looking.
"I created the SUPER ANTI-AGING EYE CREAM to provide the most powerful, effective and visible anti-aging benefits a cream can possibly give to the delicate eye area. It contains high strength, advanced science ingredients that help reduce the appearance of wrinkles, visibly firm the skin matrix and plump and depuff the skin around the eyes, leaving them fresh, rejuvenated and youthful-looking,"DR. BARBARA STURM.
KEY INGREDIENTS:

Persian Silk Tree Extract, White Chestnut Blossom Extract, Acacia Gum, Marine Plankton Extract, St. Paul's Wort Extract, Purslane Extract, Panthenol, Hyaluronic Acid, Squalane, Red Ginseng, Ceramides, Phytolipids, Rape Seed Oil, Mango Seed Oil, Apricot Kernel Oil, Sunflower Seed Oil, Lecithin, Shea Butter, Glycerin
APPLICATION:

After cleansing with Dr. Sturm's CLEANSER, apply the SUPER ANTI-AGING EYE CREAM gently to the delicate skin around the eyes. Use AM and PM.
PRICE:
EUR 180 | USD 210 | GBP 160 | HKD 1,600
SIZE:
15 ML
AVAILABLE:
- ON DRSTURM.COM FROM: 9th September 2021
- FOR RETAILER DISTRIBUTION: 23rd September 2021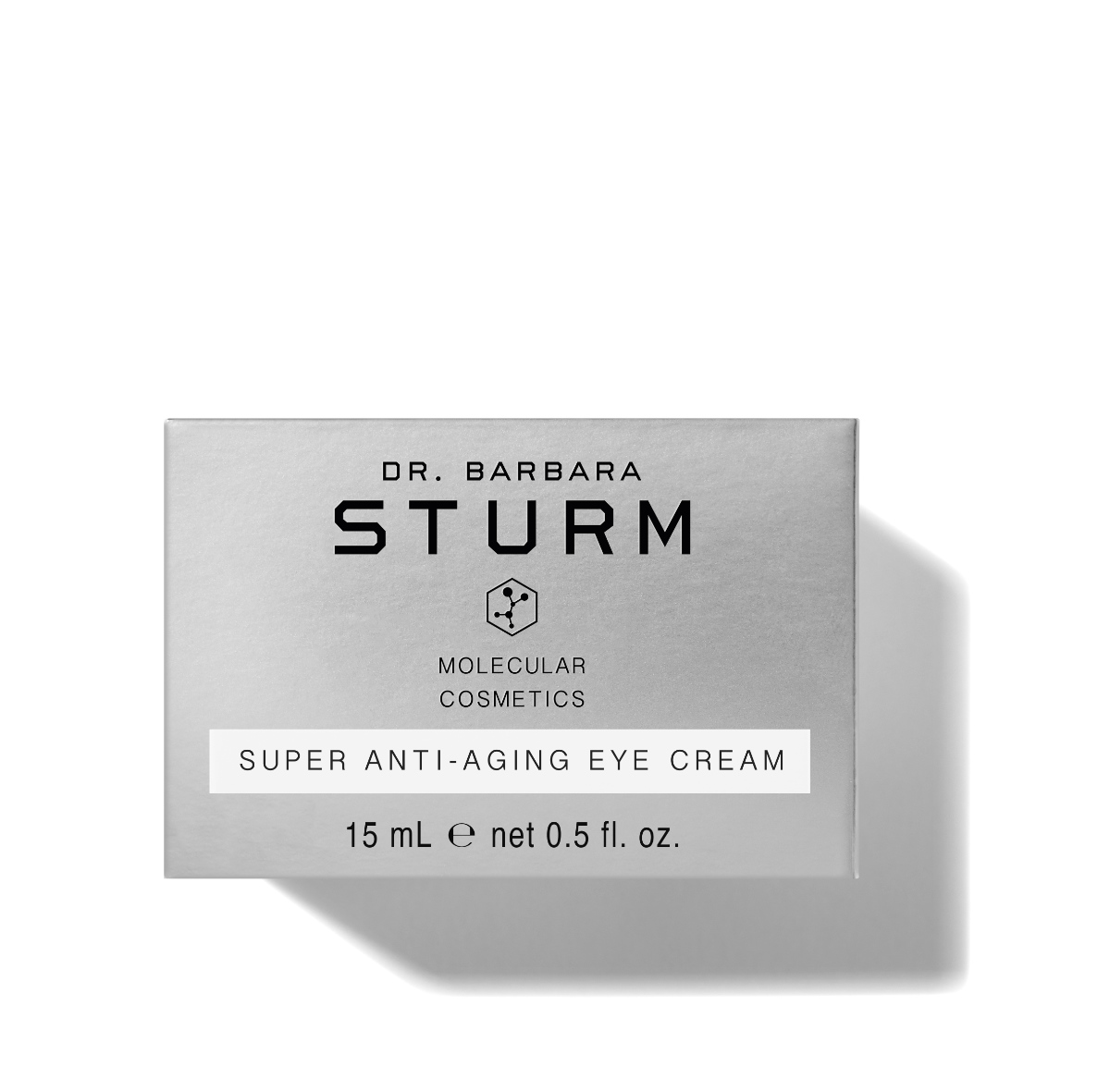 ABOUT DR. BARBARA STURM:

Dr. Barbara Sturm's unique, science-based products have achieved cult status with skincare devotees worldwide, and her philosophy of healing the skin has challenged both aggressive approaches and the conventional wisdom.
Every Dr. Barbara Sturm product is filled with ideas. Dr. Sturm's skincare regimens are simple, but the products are not. This is why Dr. Sturm has begun creating Dr. Barbara Sturm Boutiques & Spas to deliver the famous #SturmGlow facials but also to educate the public about her rigorous ingredient science approach and the anti-inflammatory lifestyle that she espouses. Dr. Sturm is committed to educating the consumer about healthy skin and wellness.
Dr. Sturm says: "We are exiting the era of marketing-based skincare and entering the era of performance-based skincare. Skincare needs to embrace the individuality and diverse skincare needs
of every consumer."
Dr. Barbara Sturm is a German aesthetics doctor, widely renowned for her anti-inflammatory philosophy and her non-surgical anti-aging skin treatments. Dr. Sturm began her medical career in orthopedics as part of the team that developed cutting-edge treatments for inflammatory conditions like osteoarthritis. Termed the "Kobe Procedure" after the late NBA basketball star Kobe Bryant, the treatment utilizes the patient's own blood cells to produce proteins that reduce inflammation and stimulate the healing process.
Dr. Sturm then translated science from her clinical research and orthopedic practice into the field of aesthetics and opened her own medical clinic in Düsseldorf. As she continued to innovate and revolutionize the field, she became one of the most sought-after beauty doctors in the world.
In 2002, Dr. Sturm developed her famous "MC1," a bespoke plasma-based cream only available to Dr. Sturm's patients. The potent cream harnesses the power of the body's own proteins in a skin healing formula to address the visible signs of inflammation.
Building on her platform of product performance and innovation, Dr. Sturm launched a full skincare range in 2014. The complete Dr. Barbara Sturm Molecular Cosmetics line is formulated for those who
yearn for an uncomplicated yet highly effective skincare regime that provides hydration, nutrition and regeneration glow. Innovative ingredient science is at the core of Dr. Sturm's line – potent, key ingredients that have been widely clinically studied for their properties and efficacy.
Dr. Barbara Sturm Molecular Cosmetics is the amalgamation of scientifically-driven aesthetic medicine and nature's reparative contributions.
• Driven by advanced ingredient science
• A philosophy of healing rather than acting aggressively towards the skin
• Free of synthetic fragrances and harsh preservatives
• Suitable for all skin types, Dr. Sturm created innovative inclusive regimens for diverse skin types and needs
• Provides the "SturmGlow" to previously stressed skin