---
Paco Rabanne Presents Its New Fall-Winter 2023 Collection: Chasing Dreams
Luxferity, 16.03.2023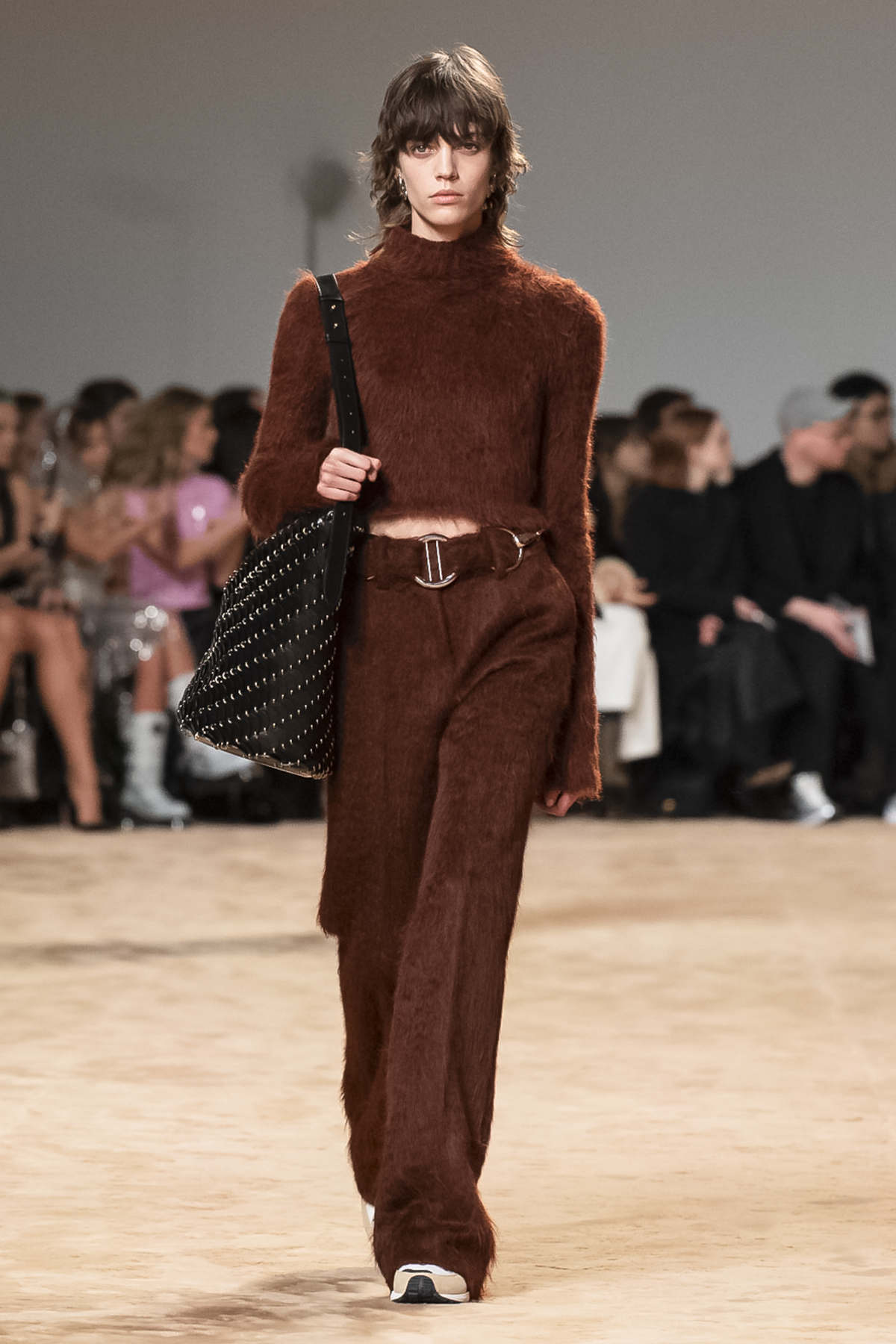 Ideas that spring from the unconscious into a white space like a waking dream. A surrealist spirit grounded in a real-world sensibility. Unexpected materials, the perpetual pursuit of Paco Rabanne, emerge with new intrigue. Sensations are translated through the symbolic pillars of design: colour, form, volume, movement.

On the surface, this collection reads like an exploration of textures. What looks like fur is hairy wool. Shards of lurex appear sprinkled atop knitwear. Metal mesh seemingly morphs into leather. Gauzy mousseline studded with strass gives an eerie smoked effect, a shimmering shroud. Metallic decoration suggests the coat of a fantastical, mechanized creature. Clear crystals dangling from dresses resemble ice cubes.
In this modern material awakening, Julien Dossena channels the historic friendship between Paco Rabanne and Salvador Dalí: two Spanish visionaries linked by their radical artistic expression. From women outfitted in contemporary armour to landscapes unbound by natural laws, they created parallel and, at times, overlapping worlds that were at once magical, mystic and mysterious.
With participation from the Fundació Gala-Salvador Dalí, the collection features four paintings – including The Shades of Night Descending (1931) and Sun-Table (1935) – that become both distorted and dimensional through assembled panels. Extracts from the artists' imagination show up elsewhere: a bejeweled pomegranate virtually throbs at the gathered heart of a flou dress; small telephones dangle from earlobes.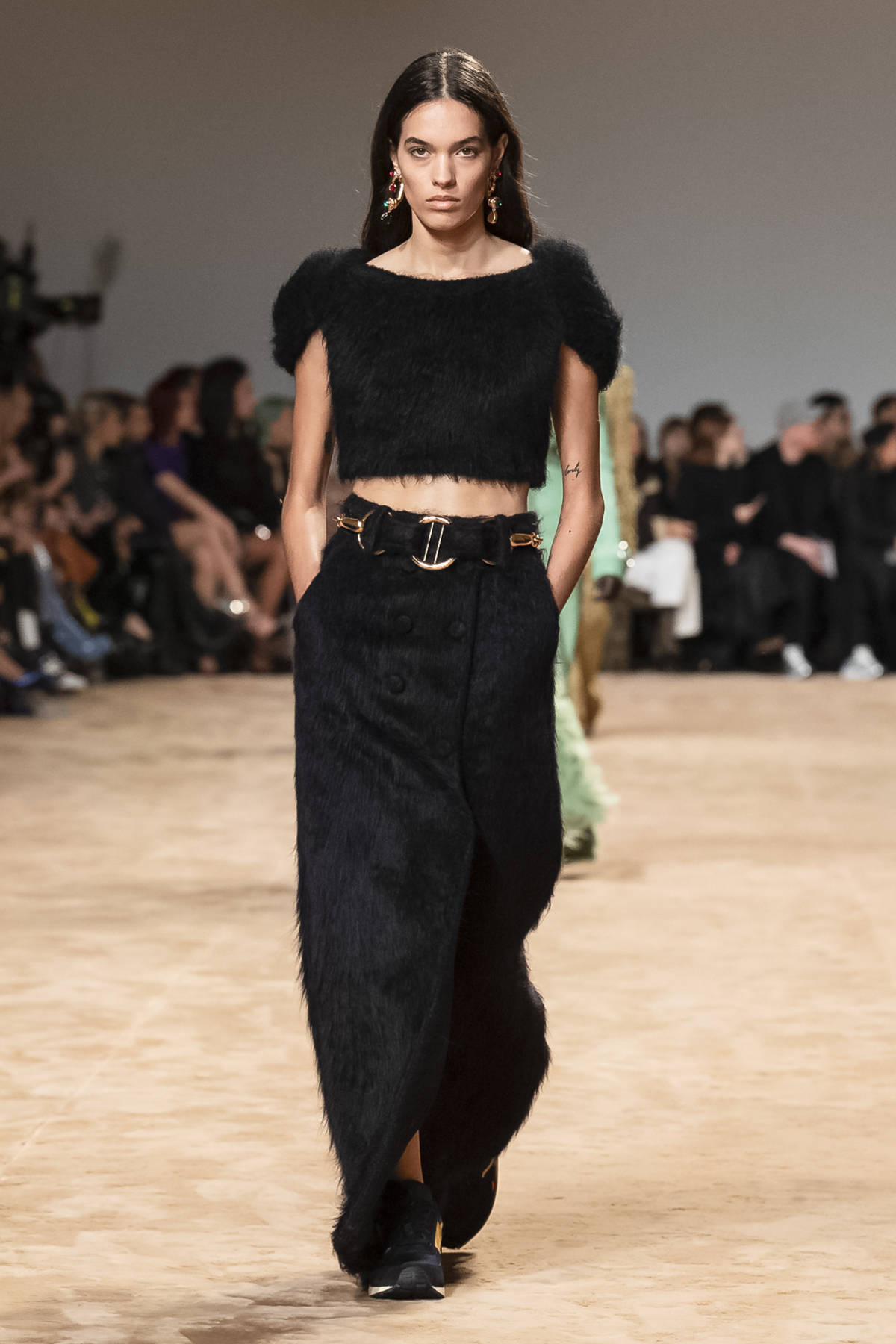 Statuesque silhouettes make a sensual impression: long and direct with shifting focal points – tied at the décolleté, exposed around the core, draping and pooling towards the ground. Austere statements that nonetheless envelop the body. Synthetic lavender, sfumato blue, ochre and almond bring subtle richness to gleaming metal and elemental black.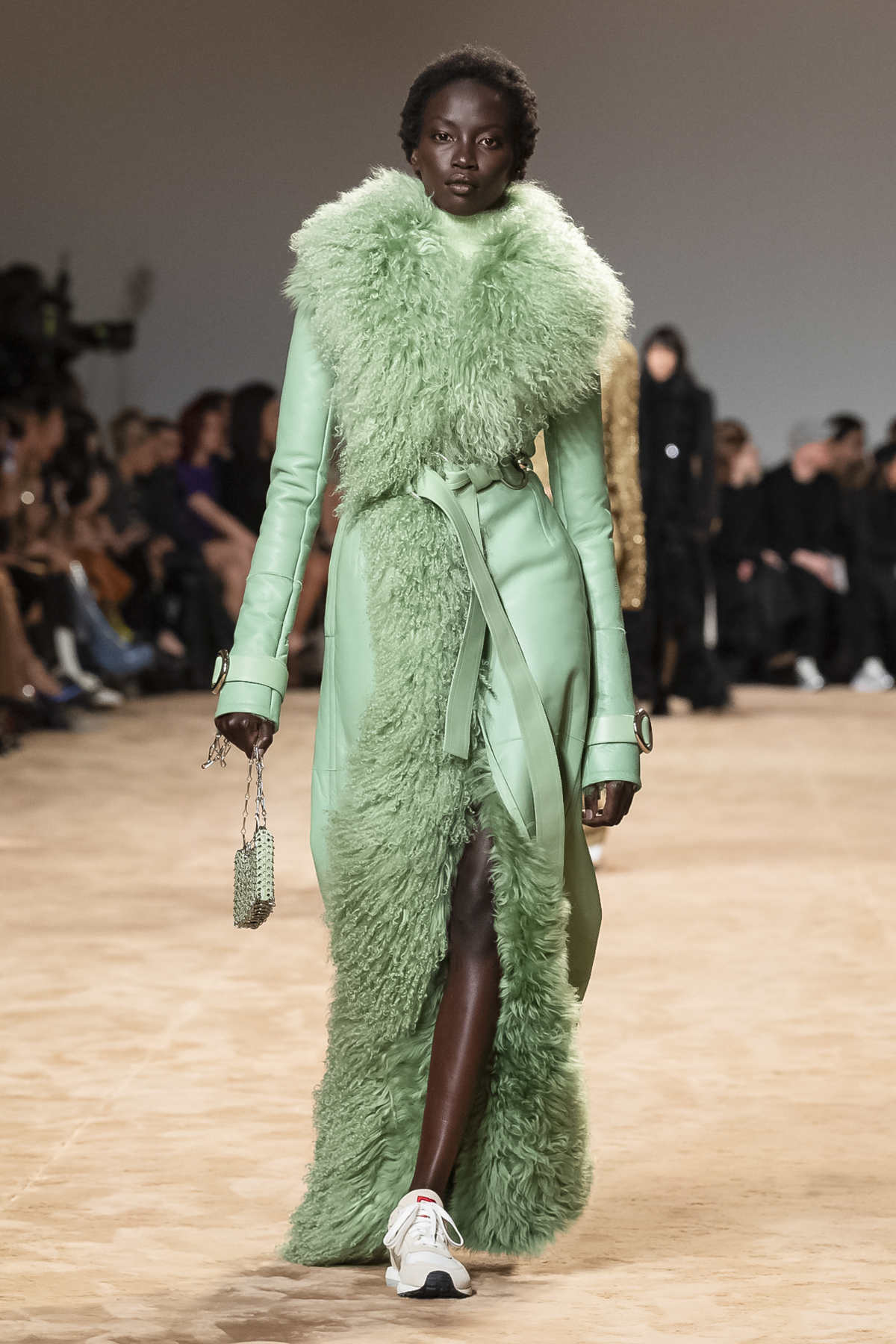 Interspersed throughout the sequence of looks, leather boots that fit like second skin boast reflective wedges as though floating. Pointy silver flats recall the earliest decade of Paco Rabanne, while a new retro sneaker grounds coordinated pieces with a '90s allure. Bags revisit signature elements as evolved studies: pastilles torqued and twisting; glossy colour atop the assemblages; organic, compact shapes.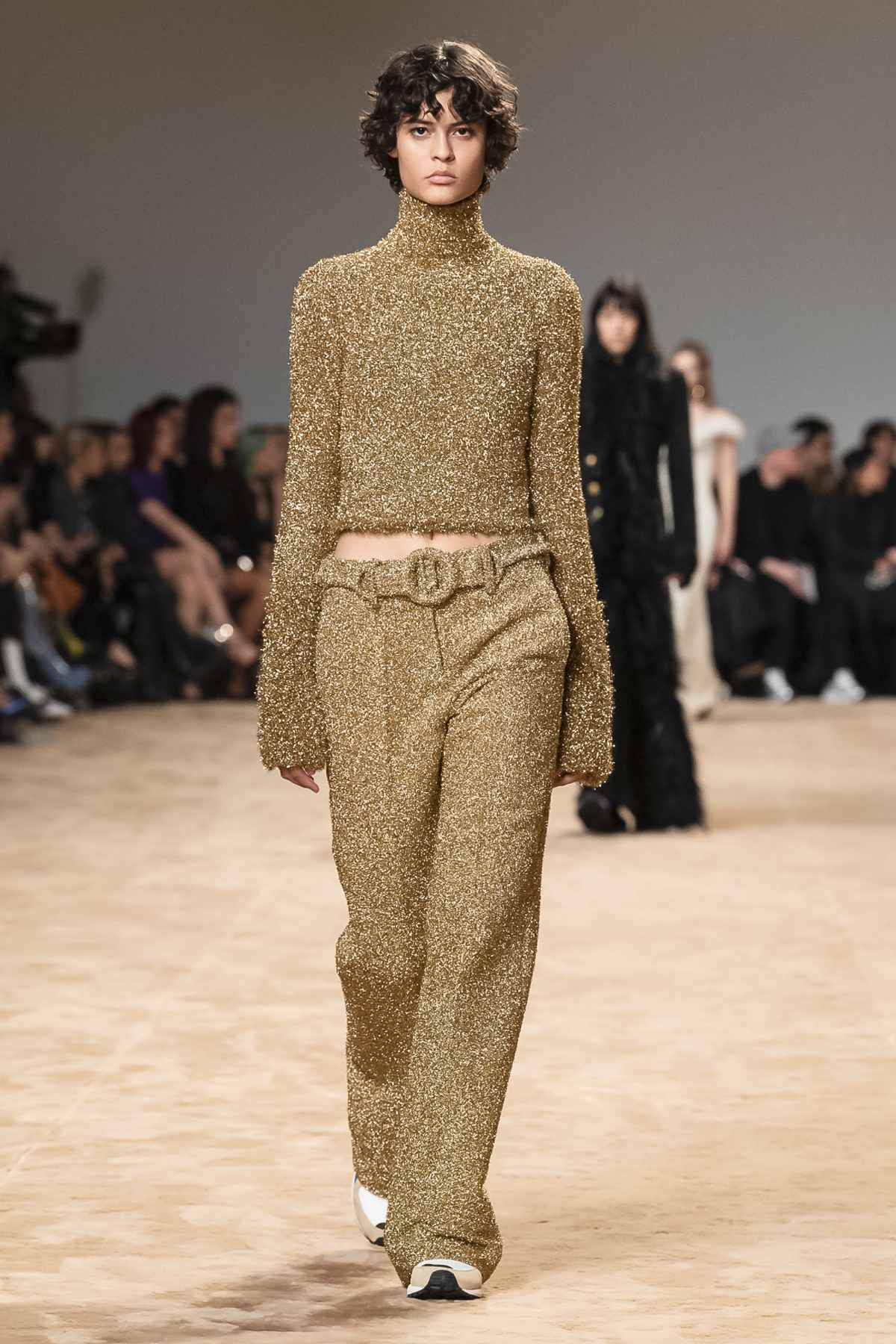 As a coda to the couturier's legacy, the show ends with five archive creations accompanied by spoken extracts atop the soundtrack. Spanning five decades, these dresses signal the innovative craftmanship that will always define the timeless and totemic women of Paco Rabanne.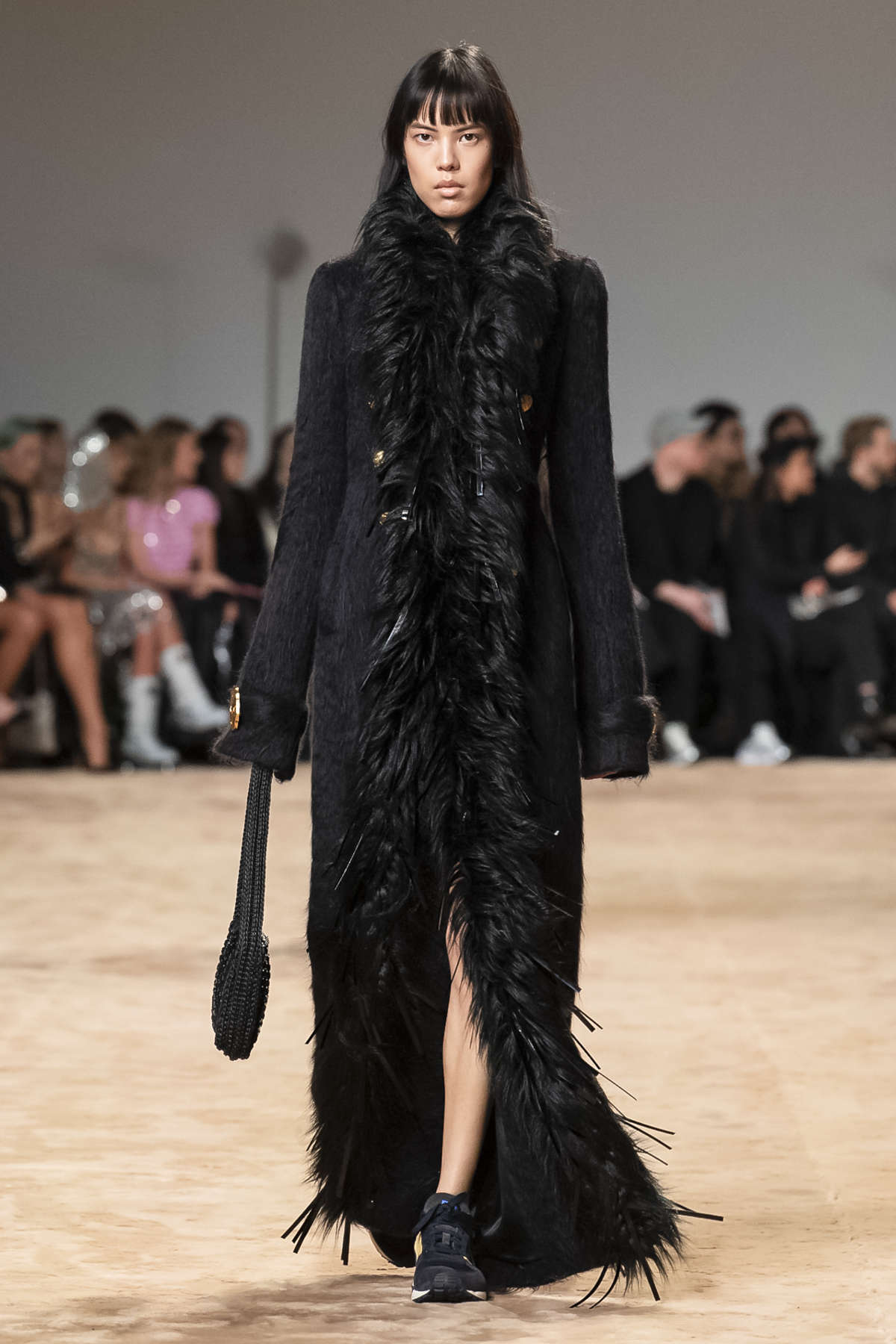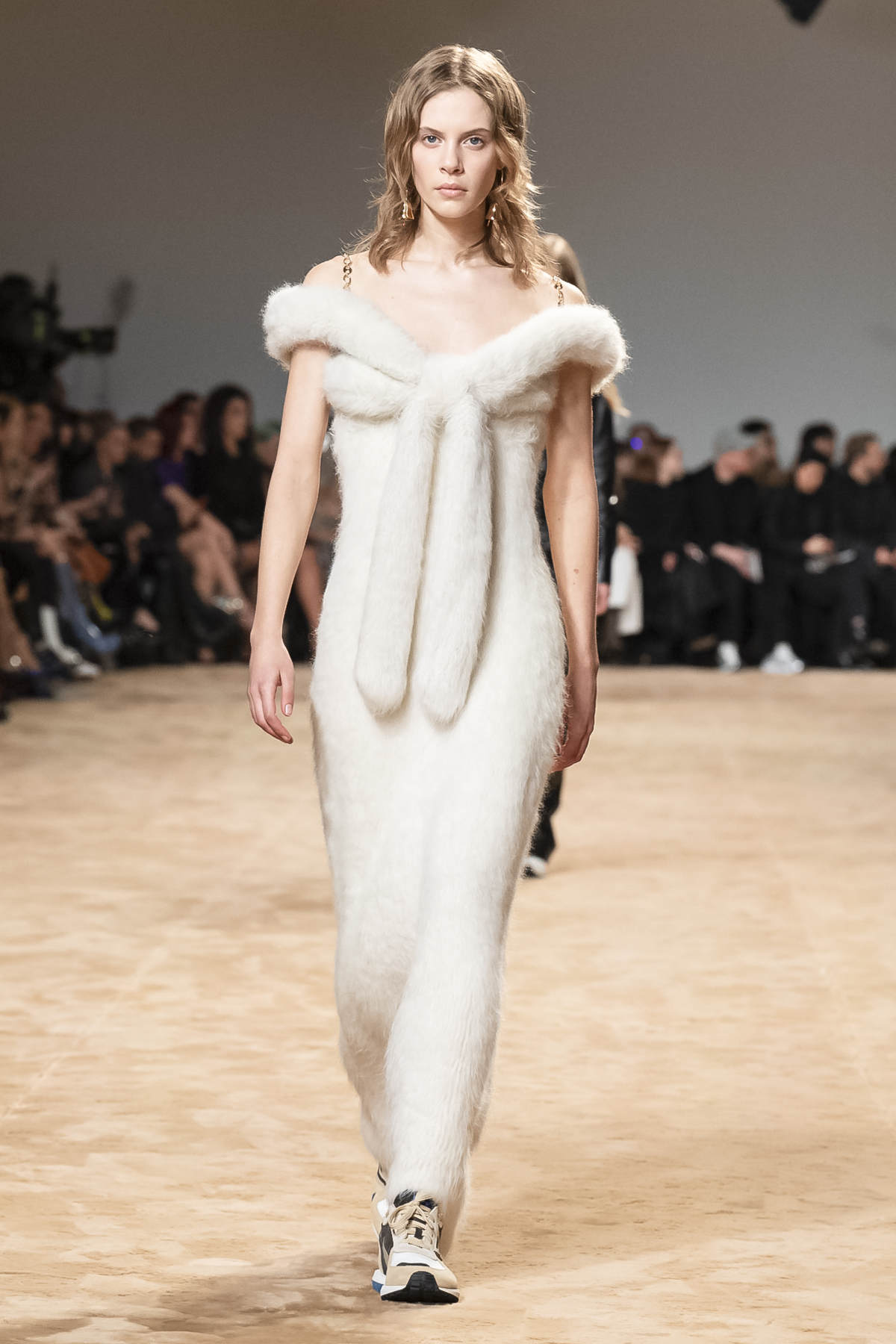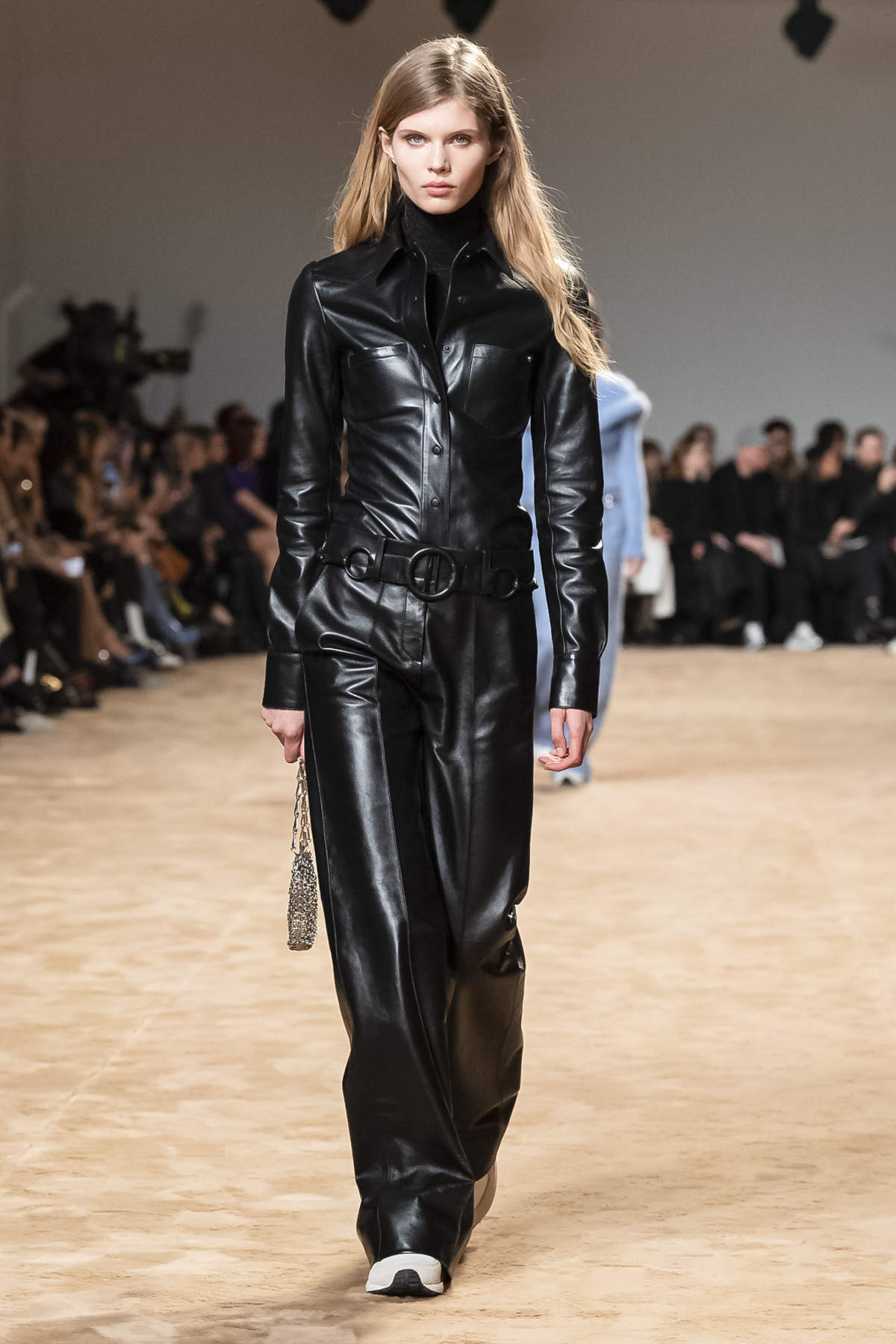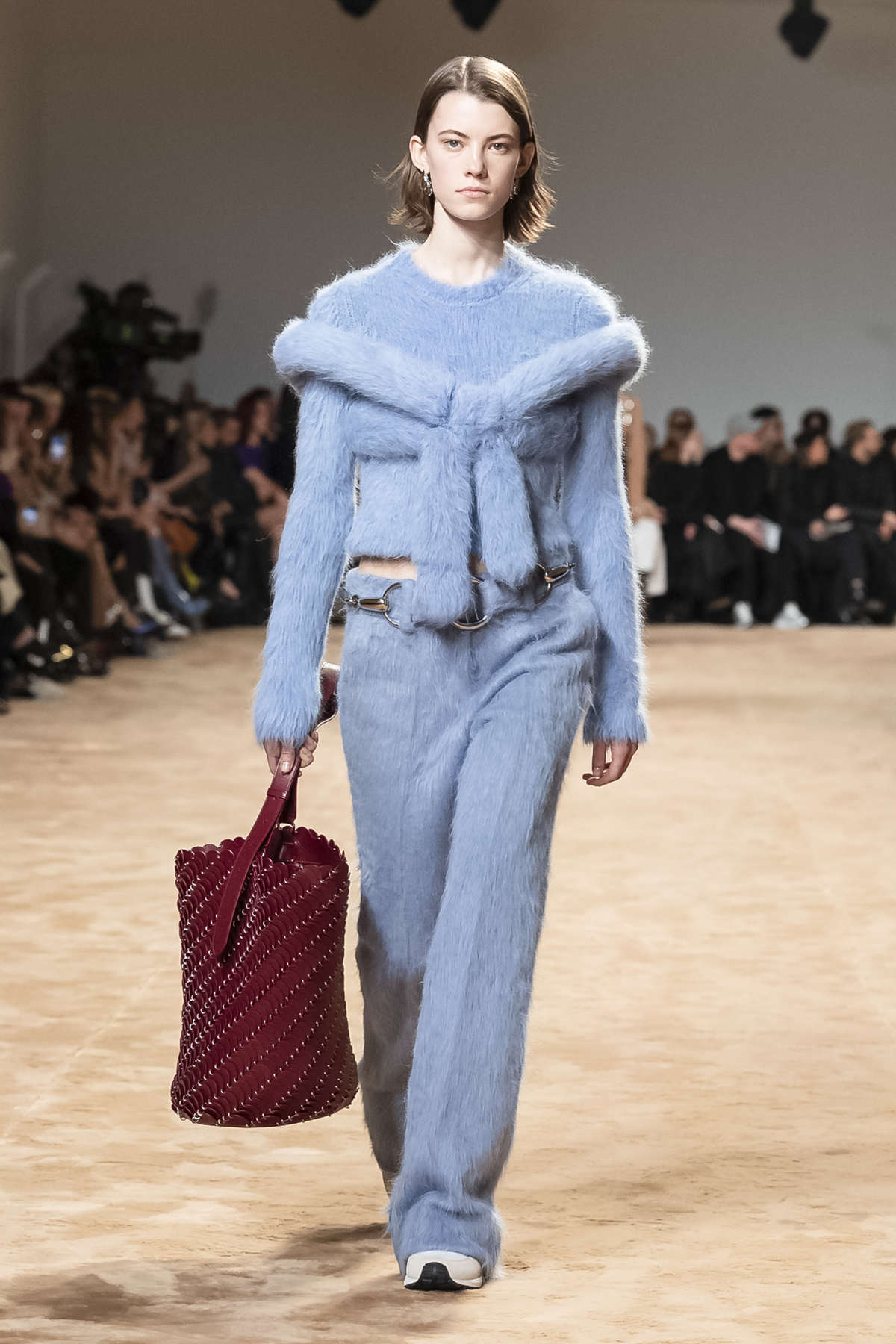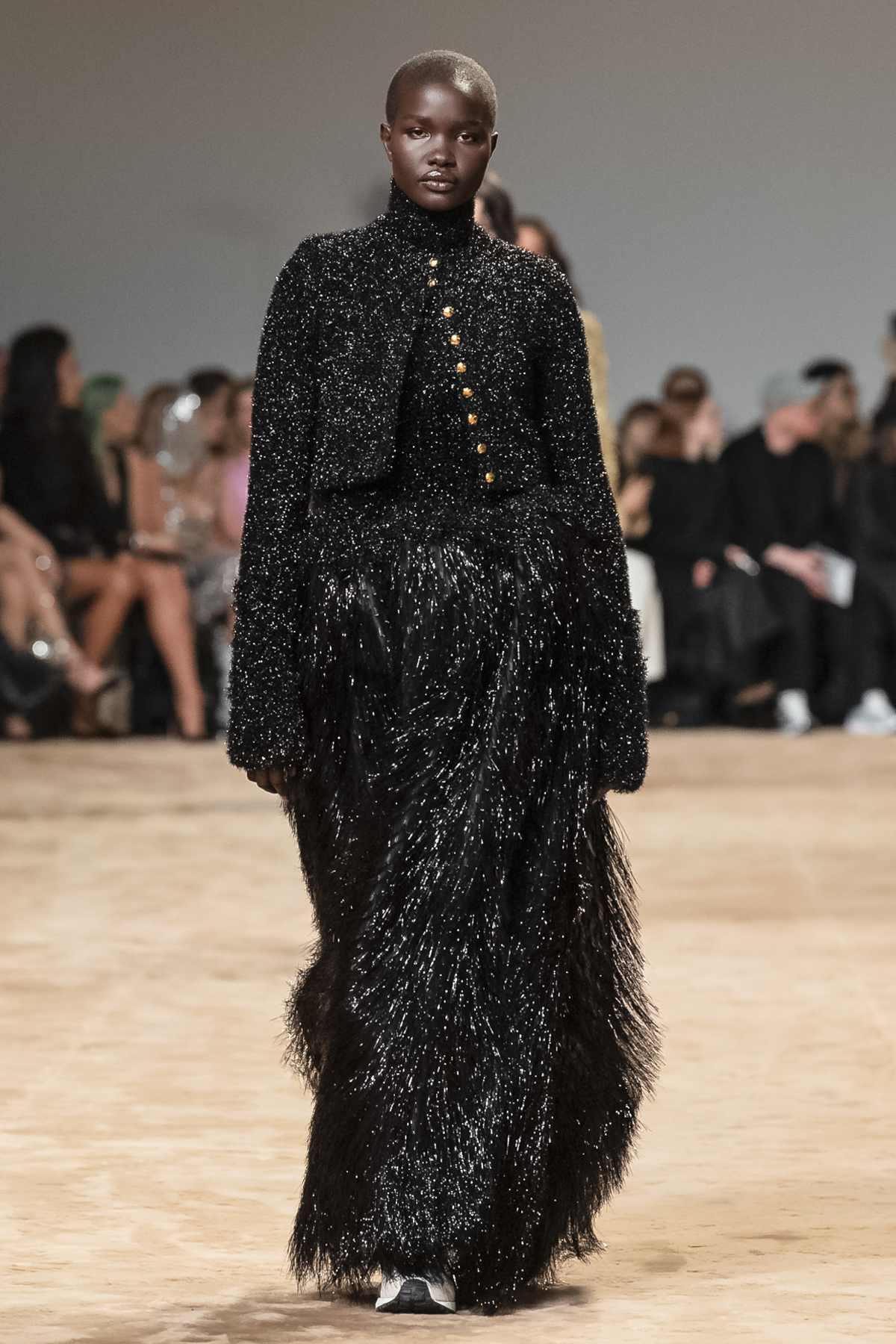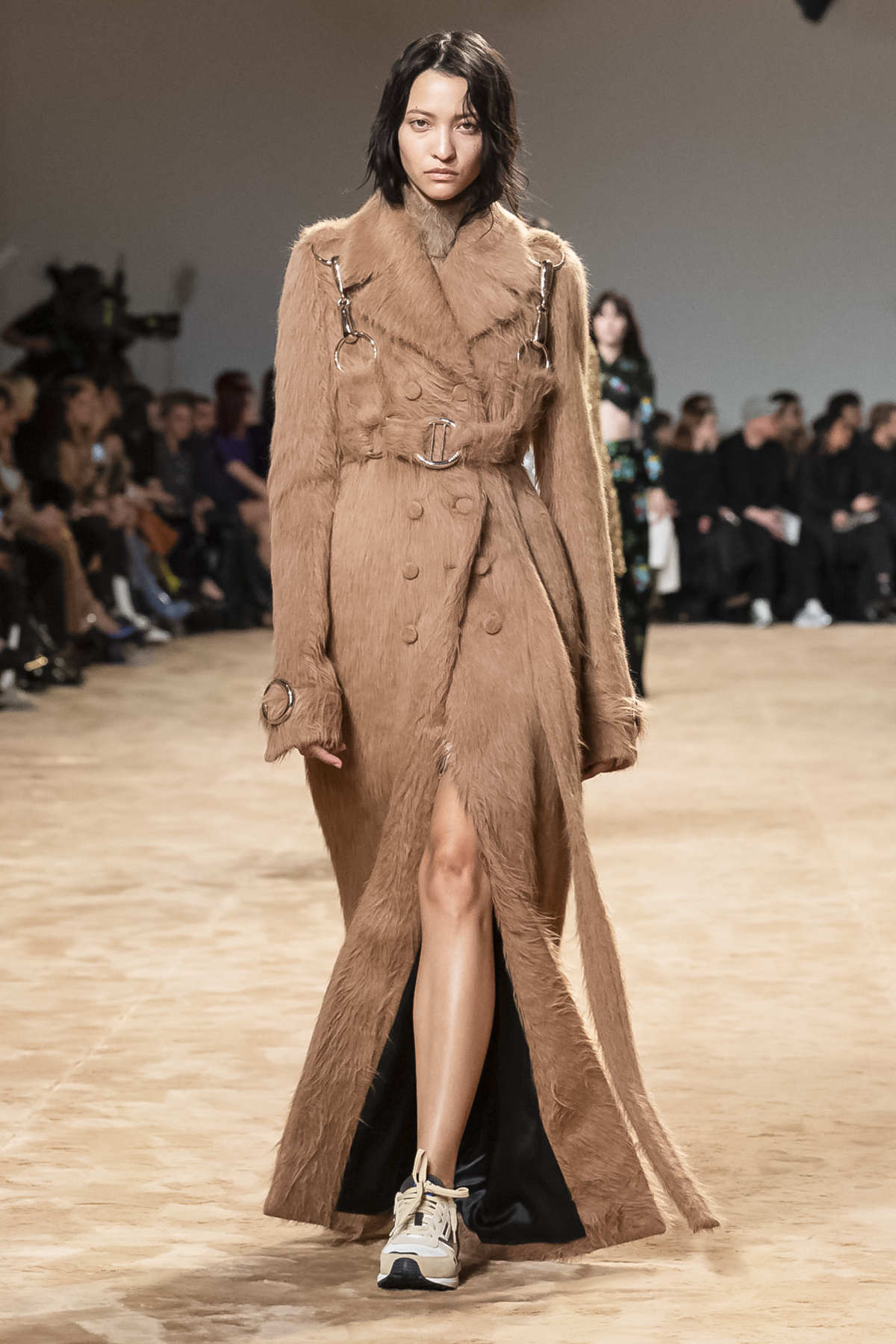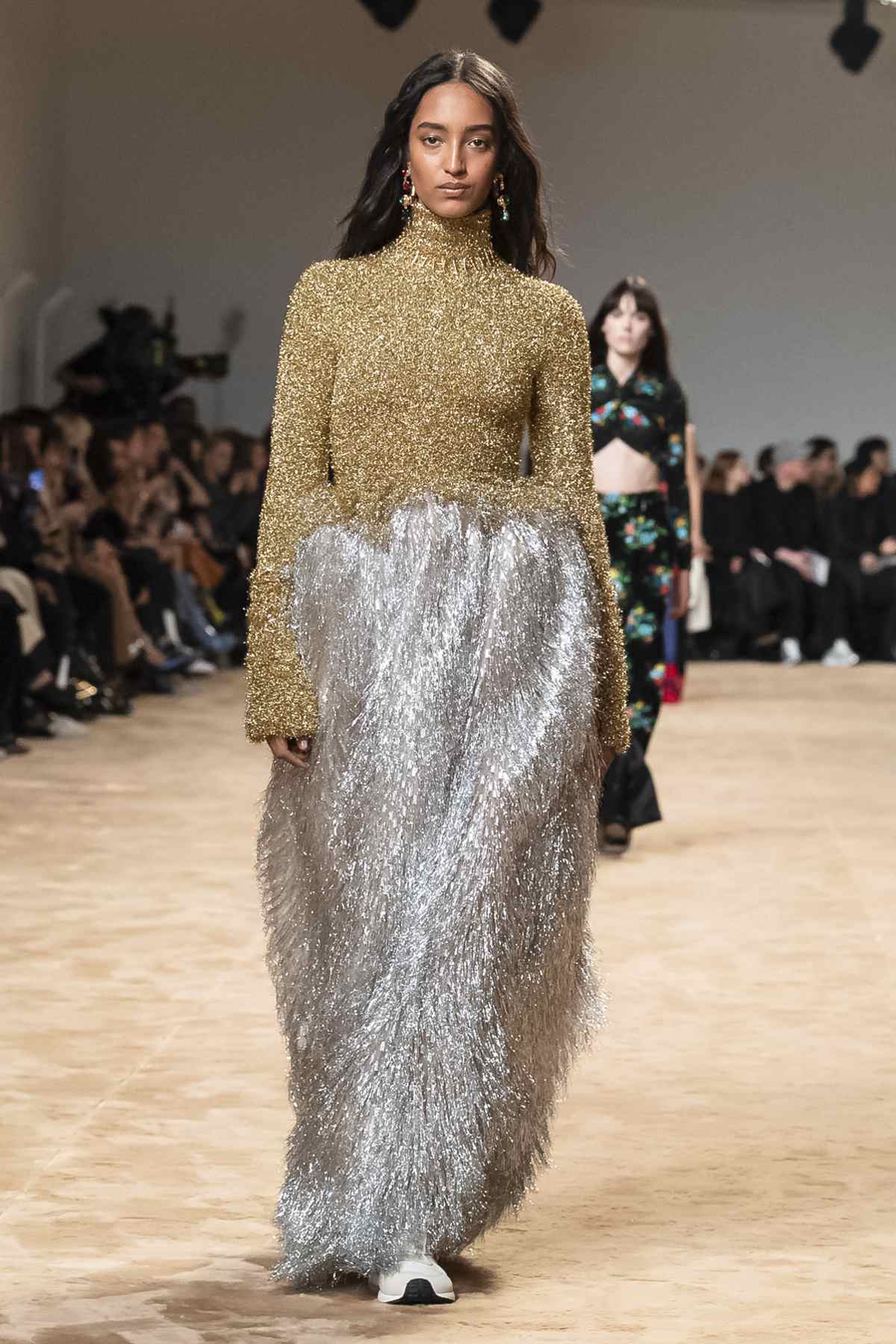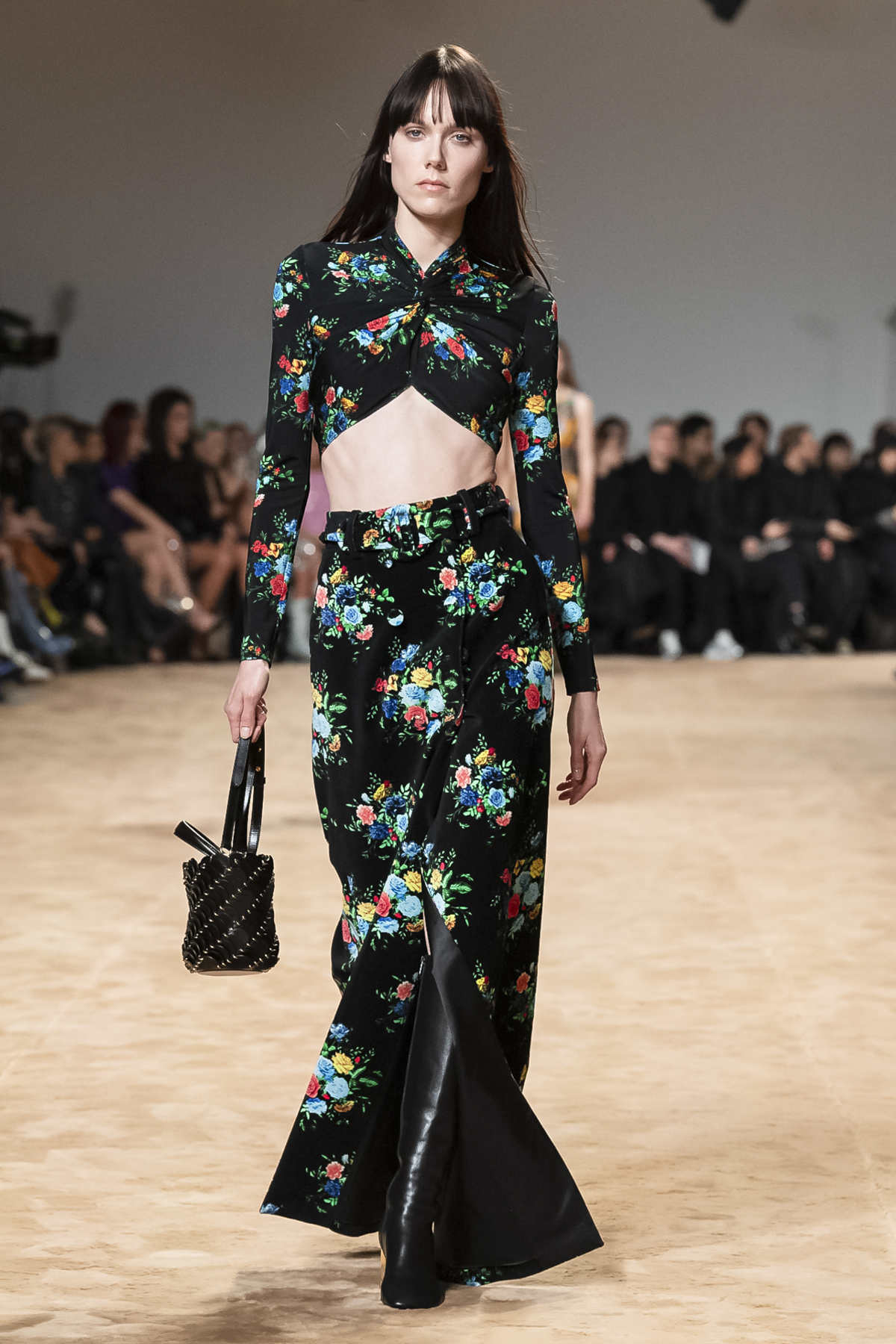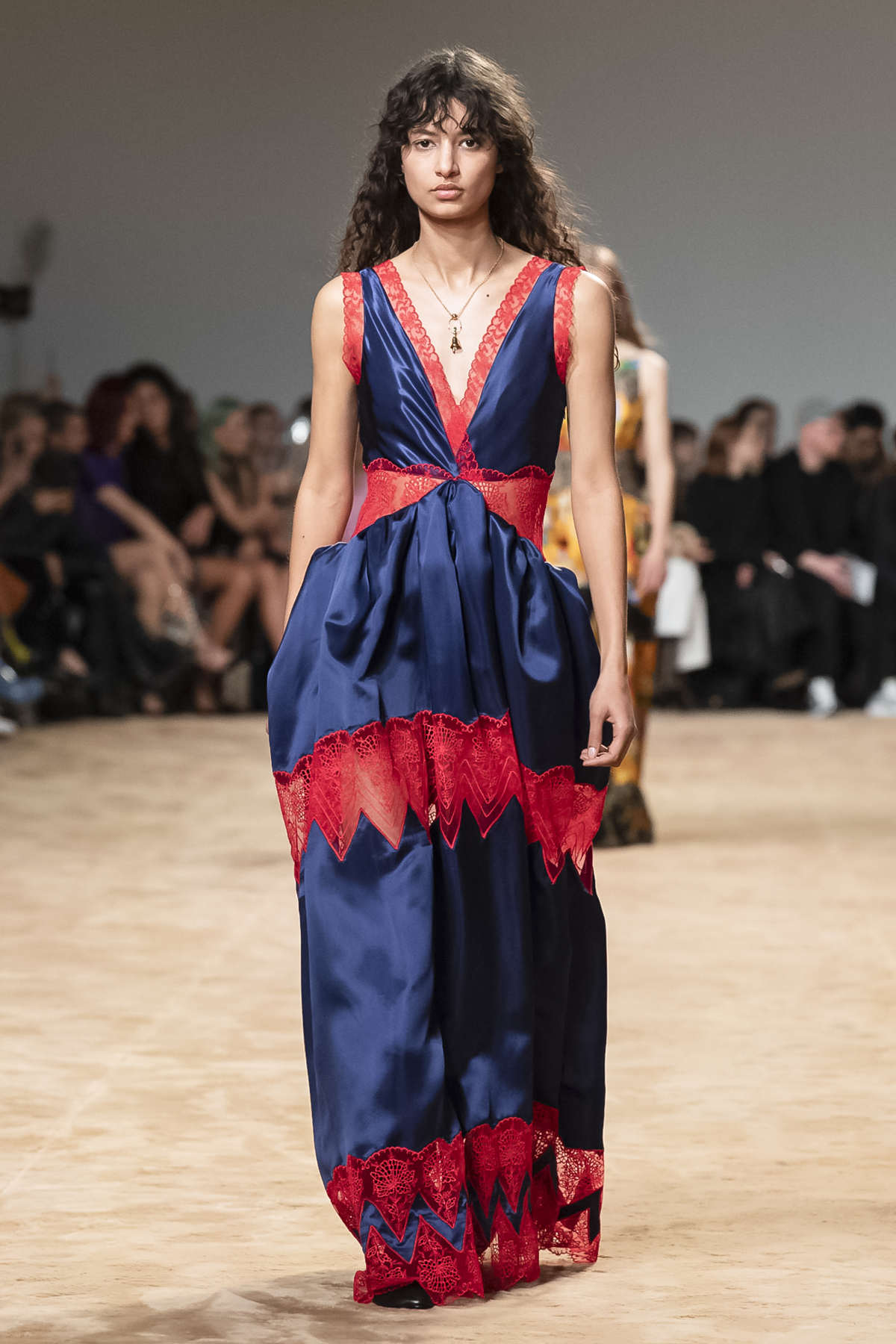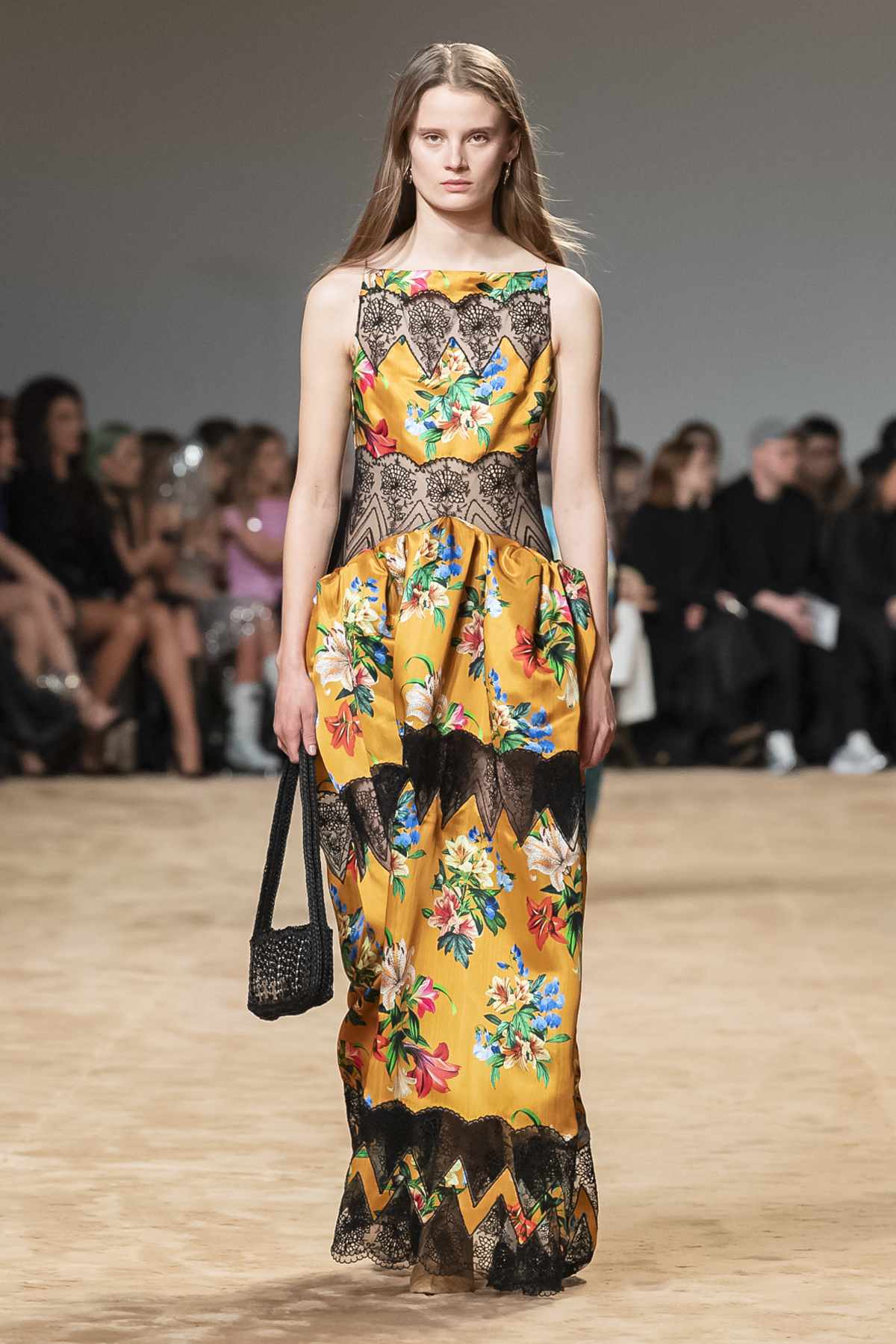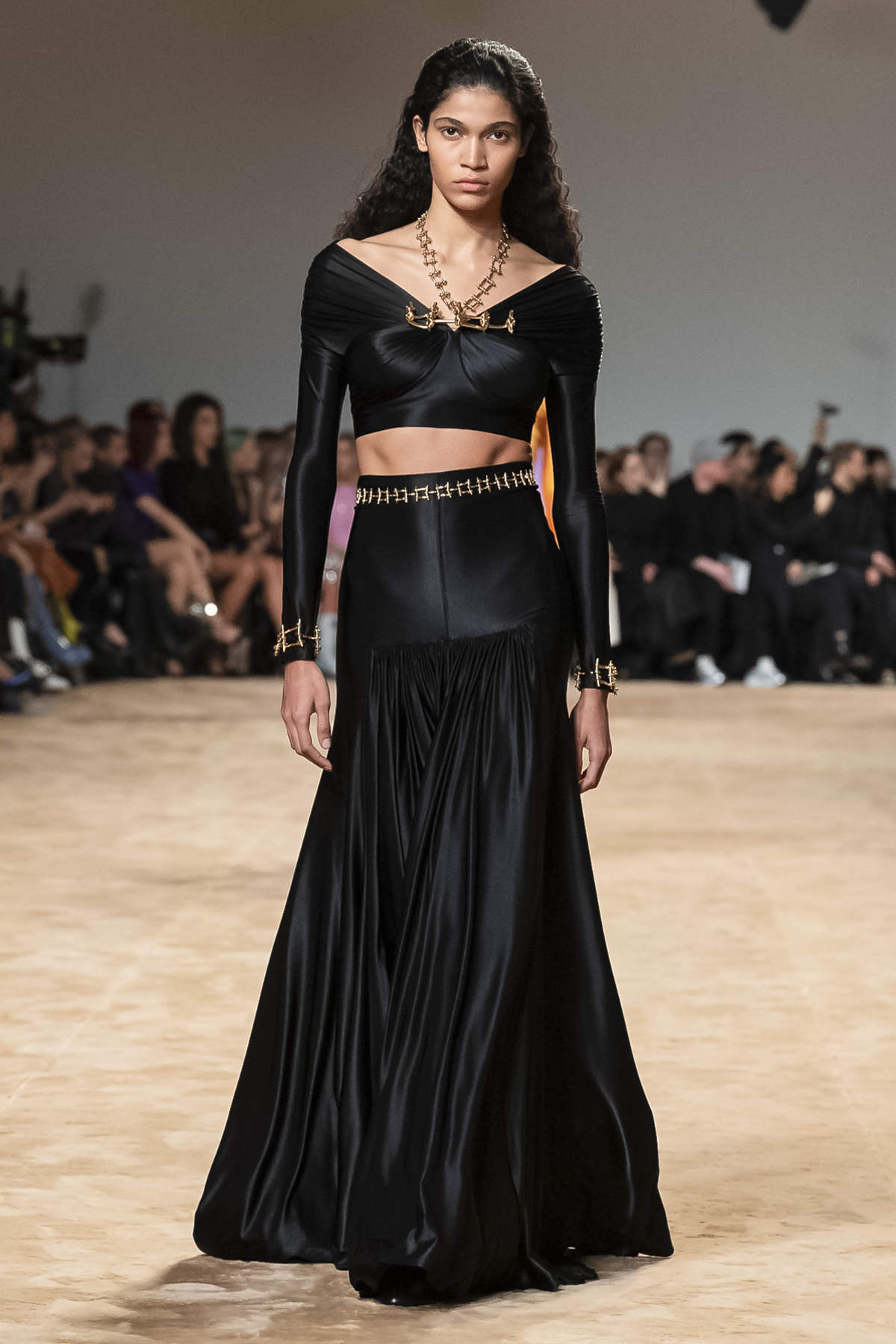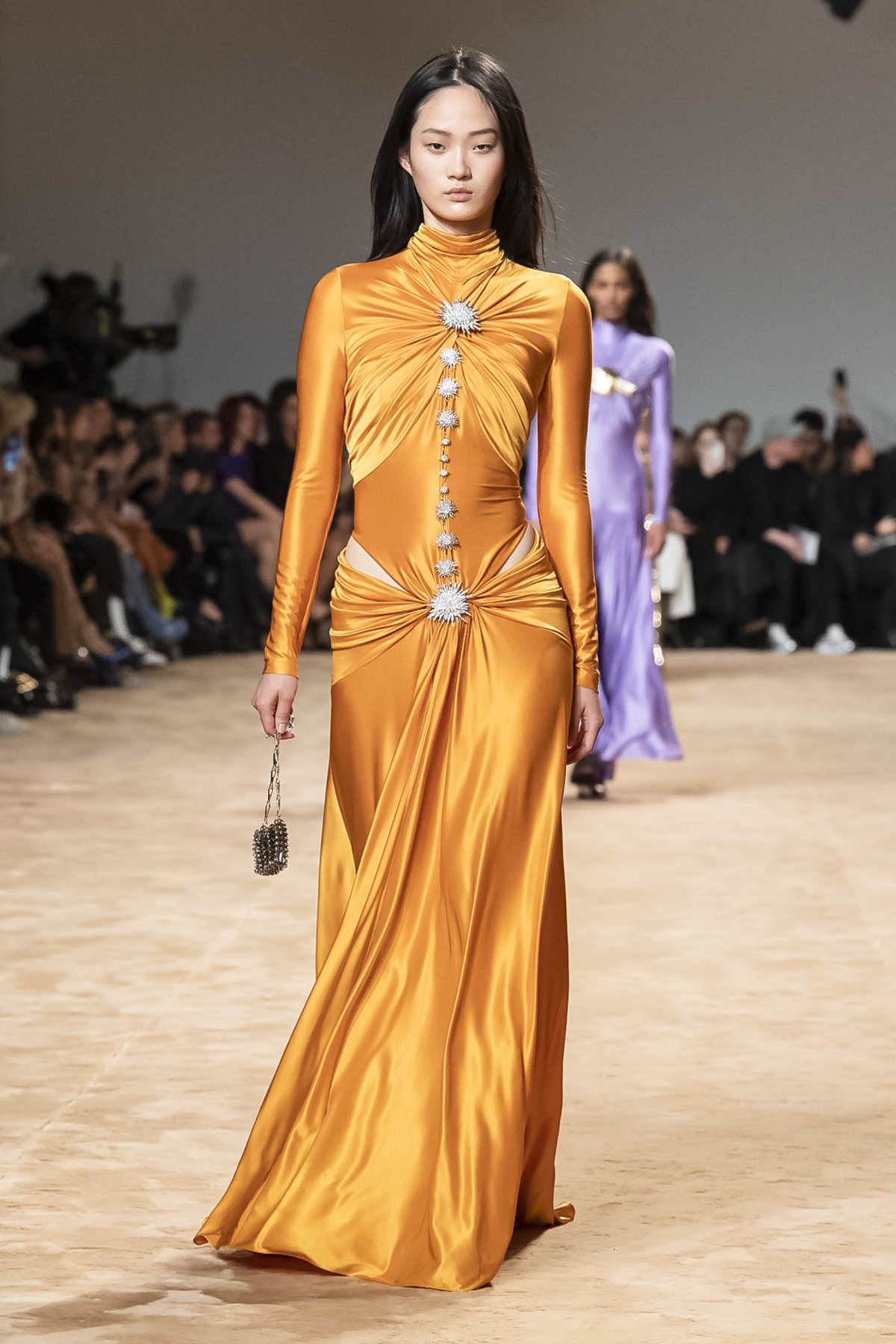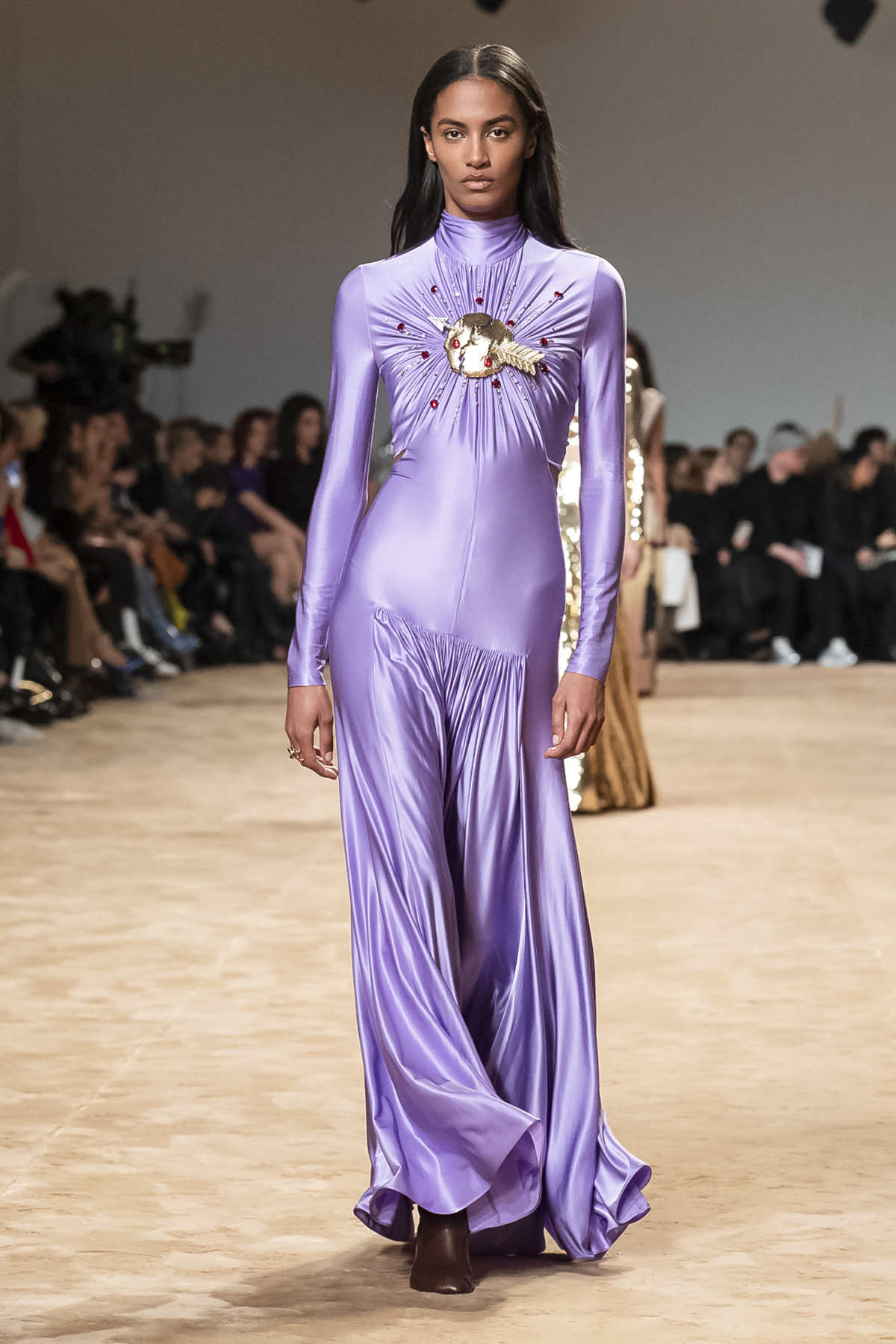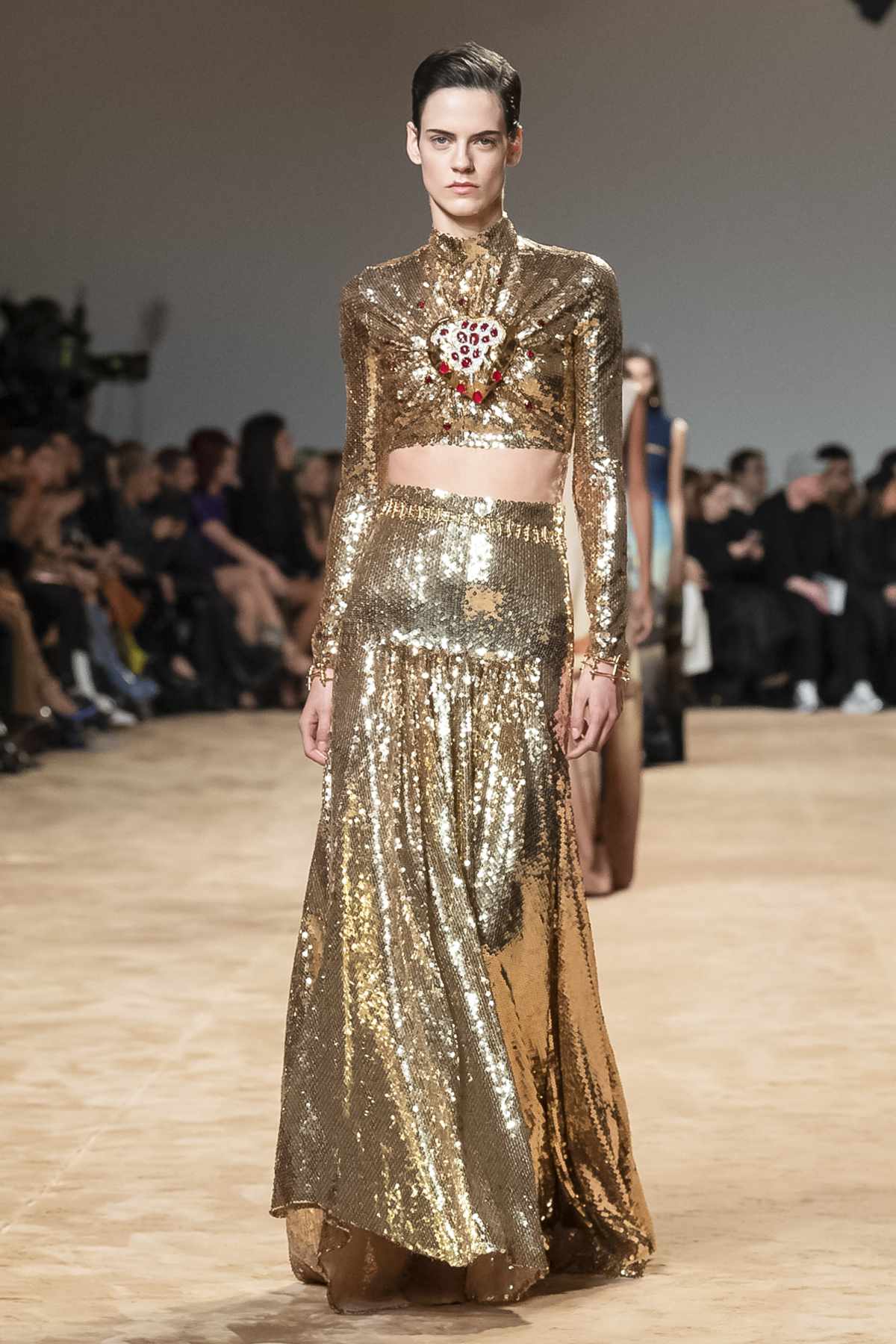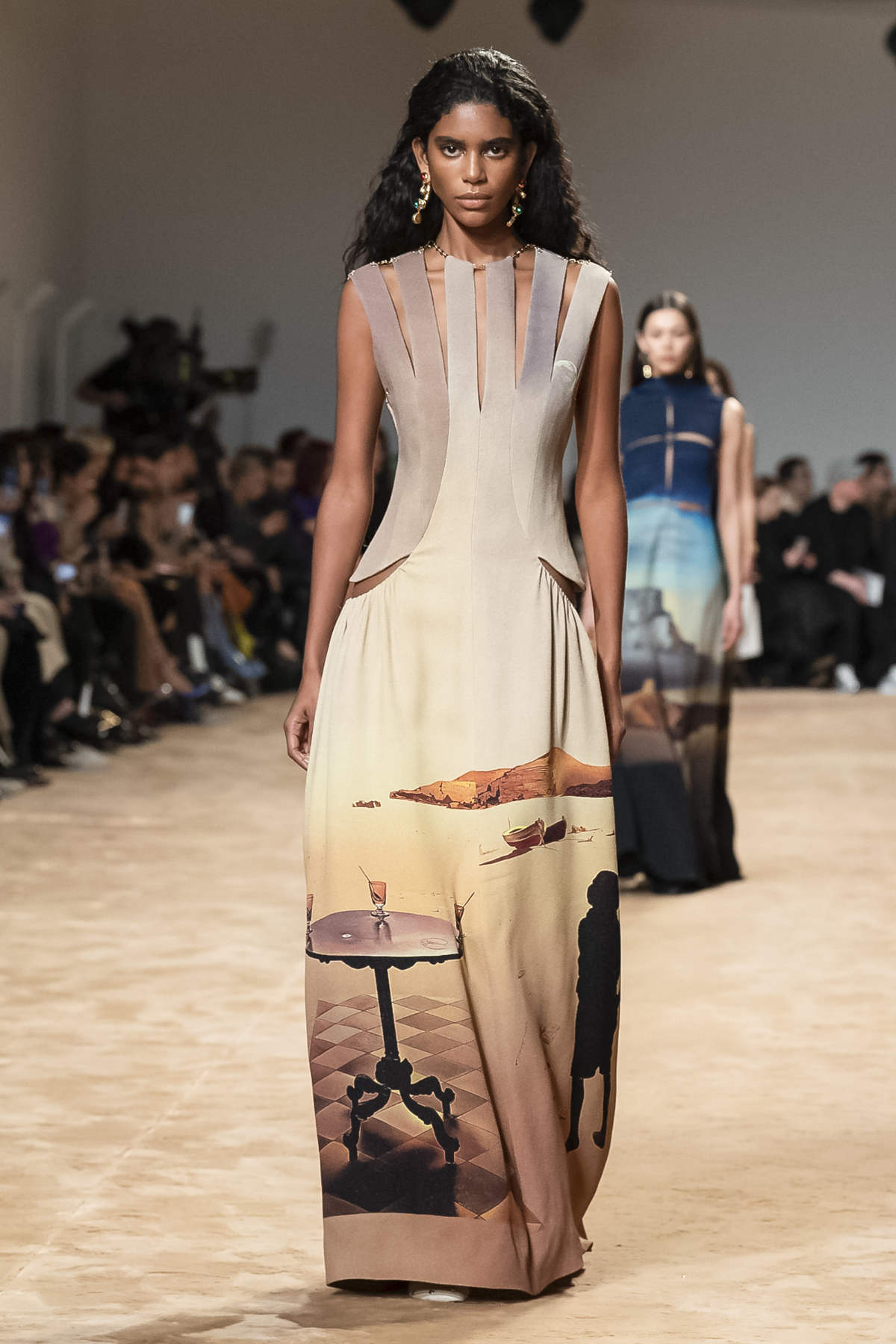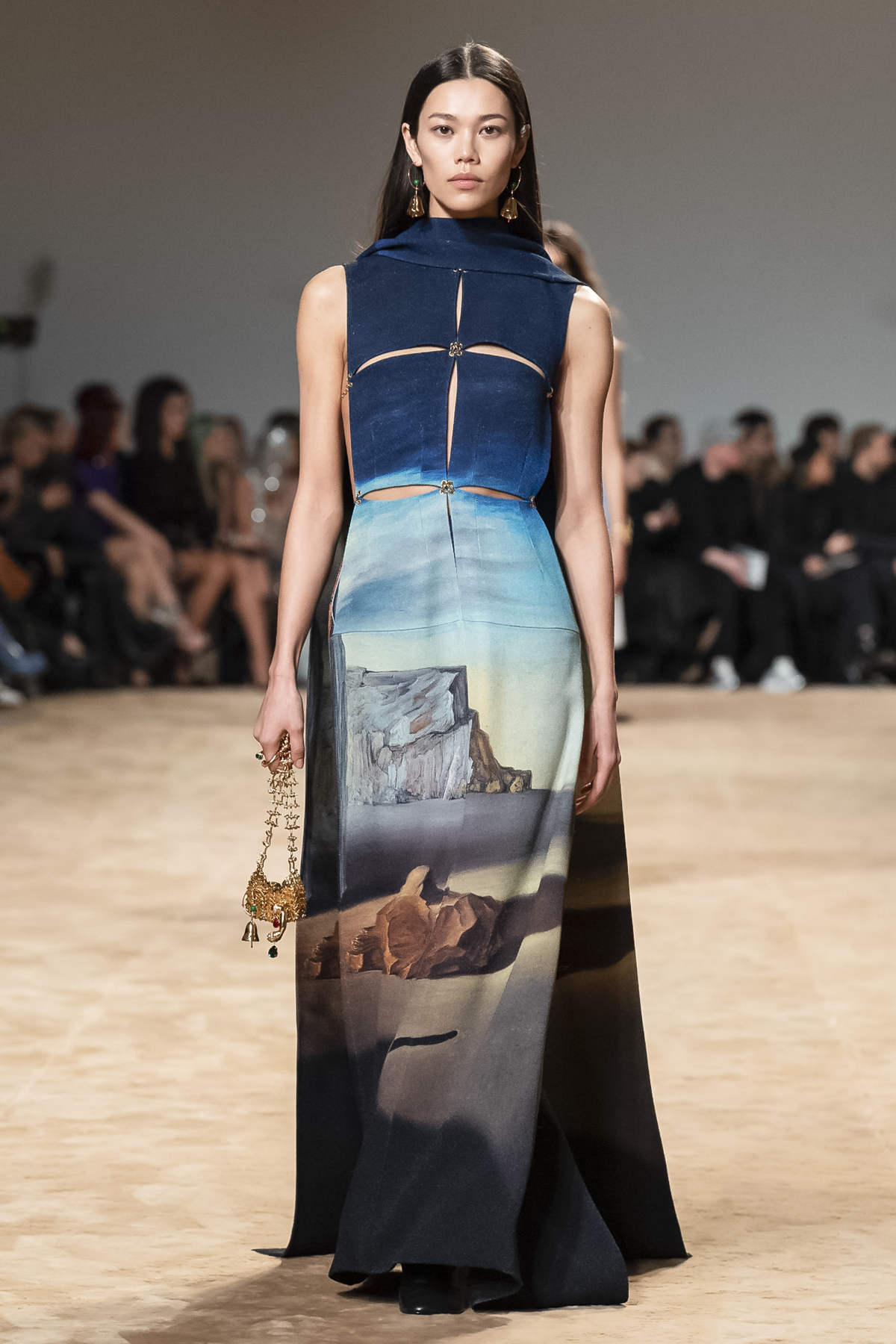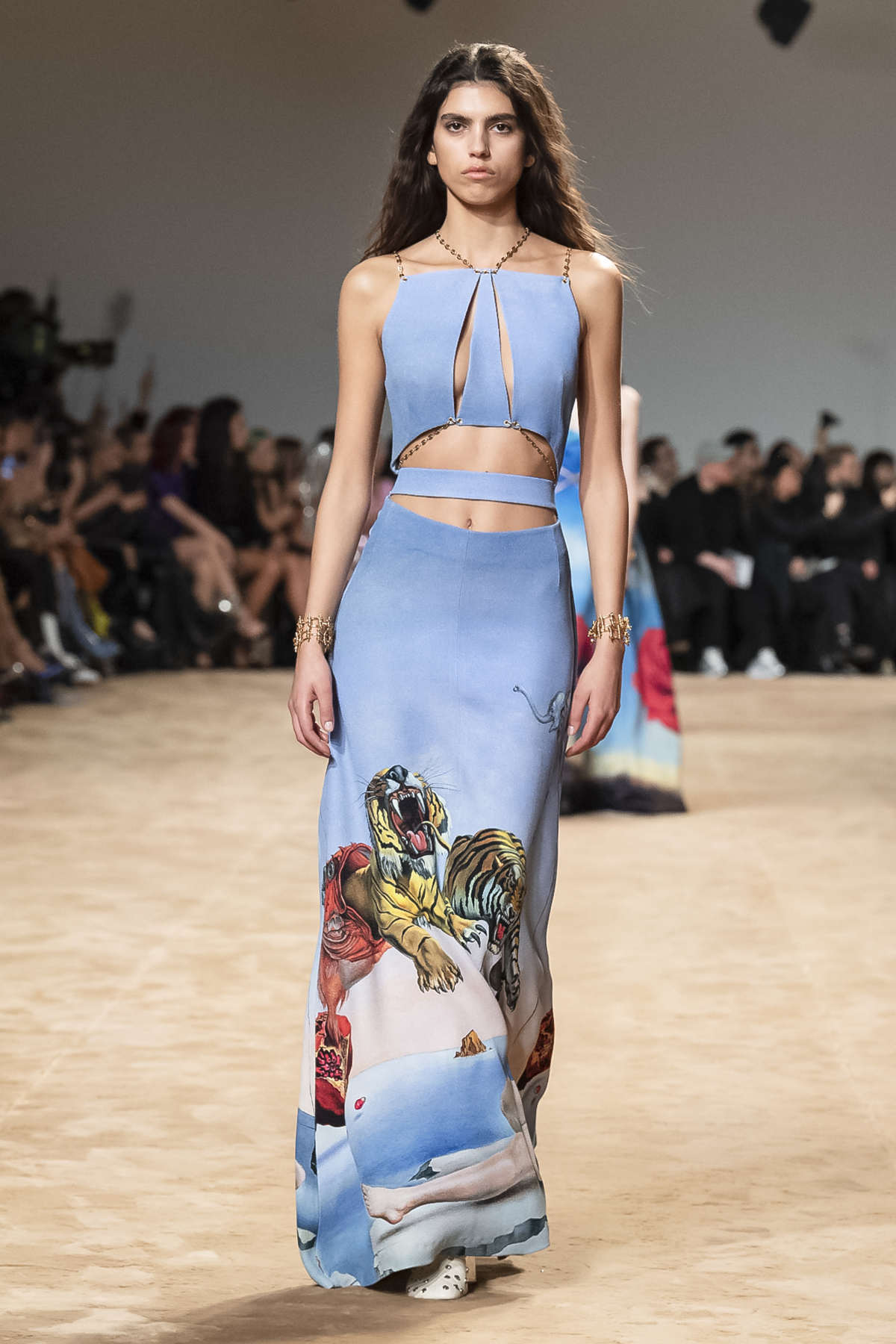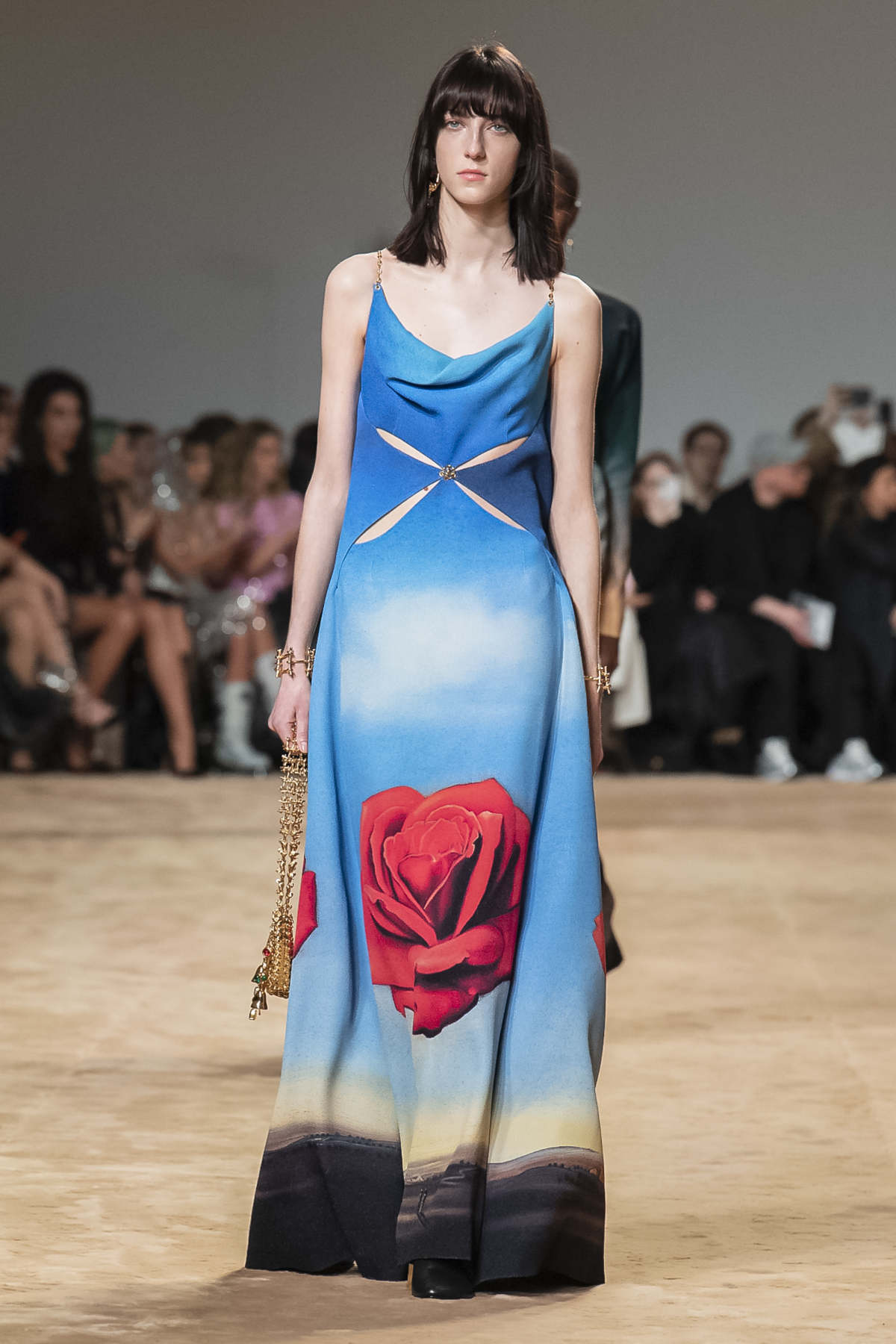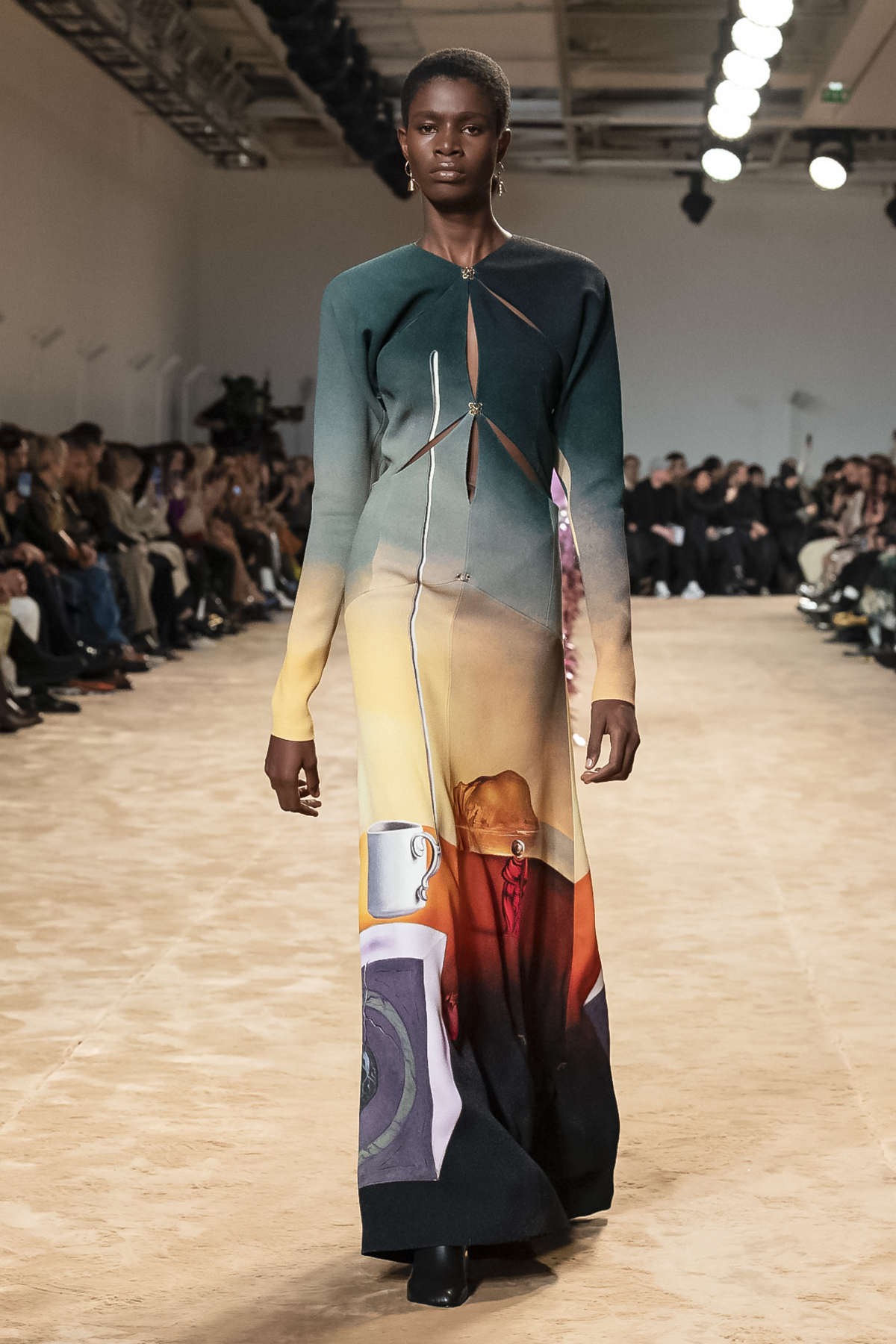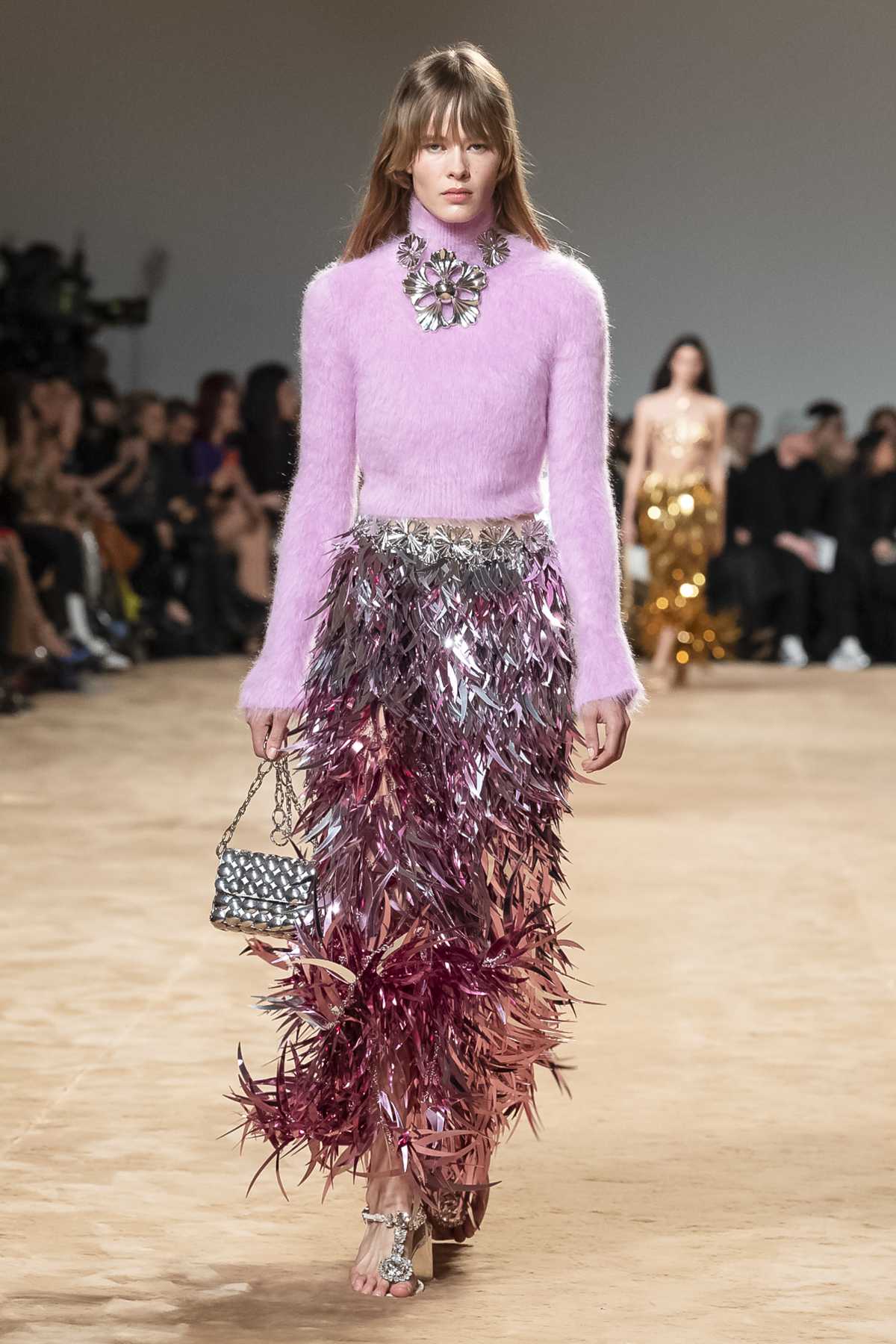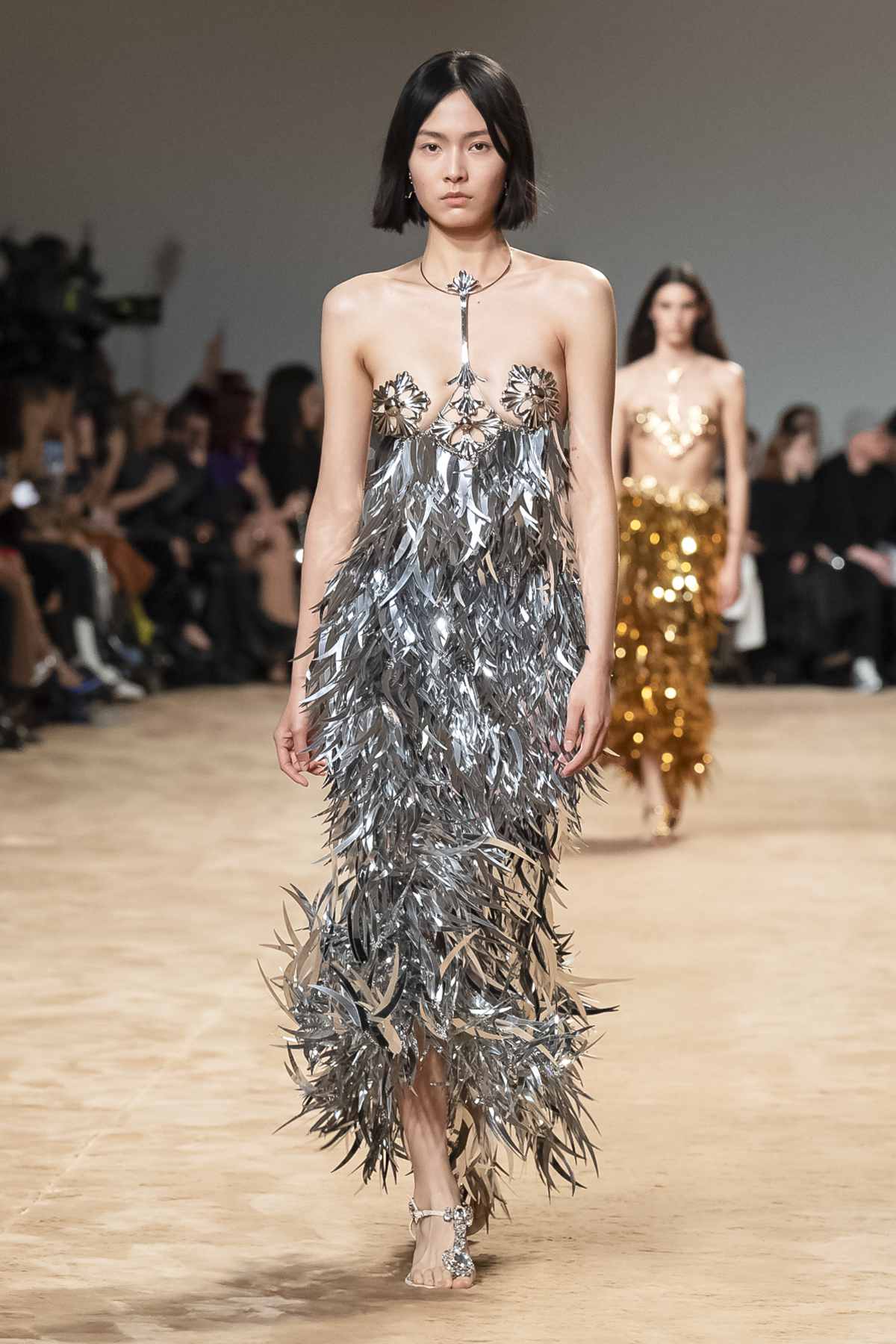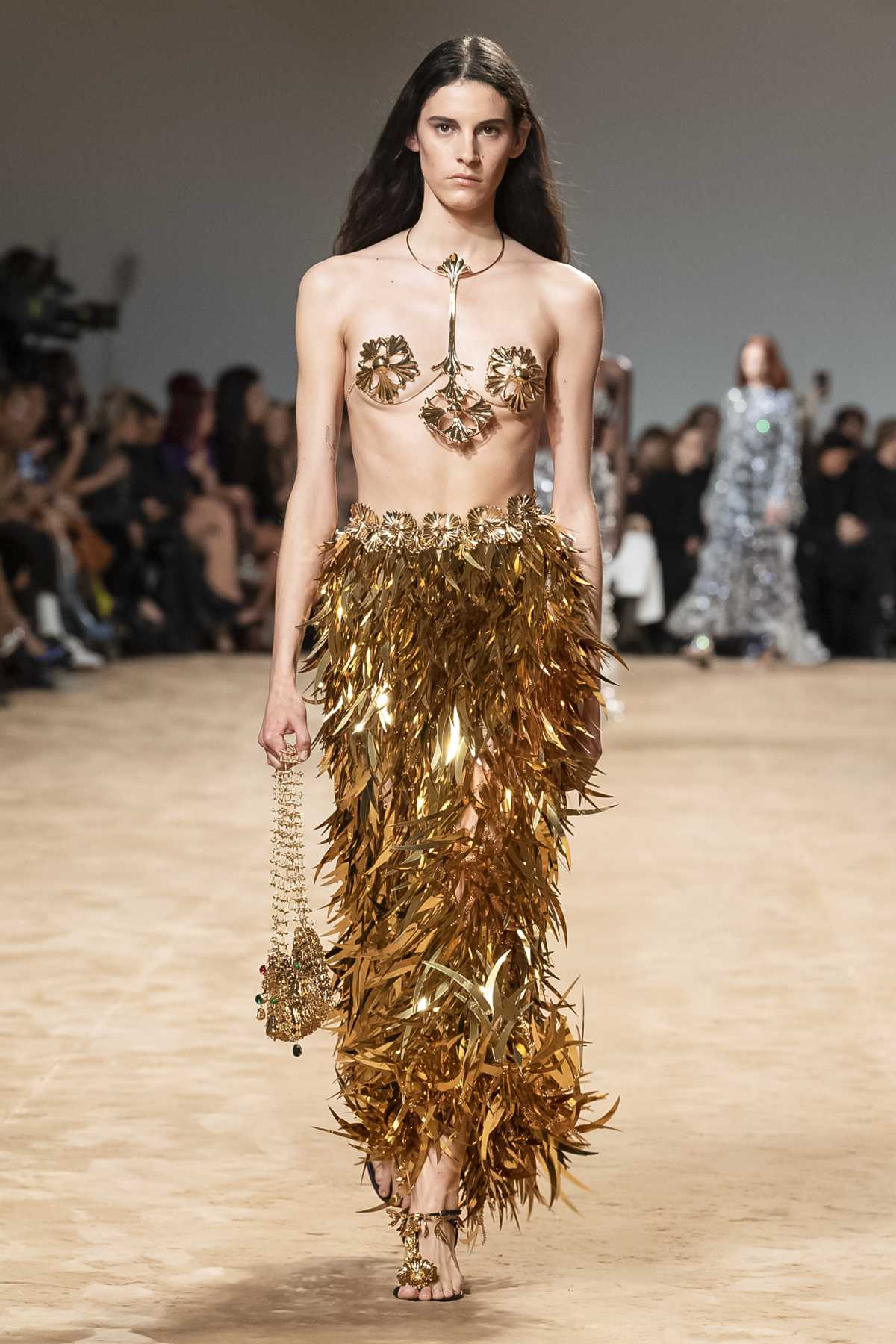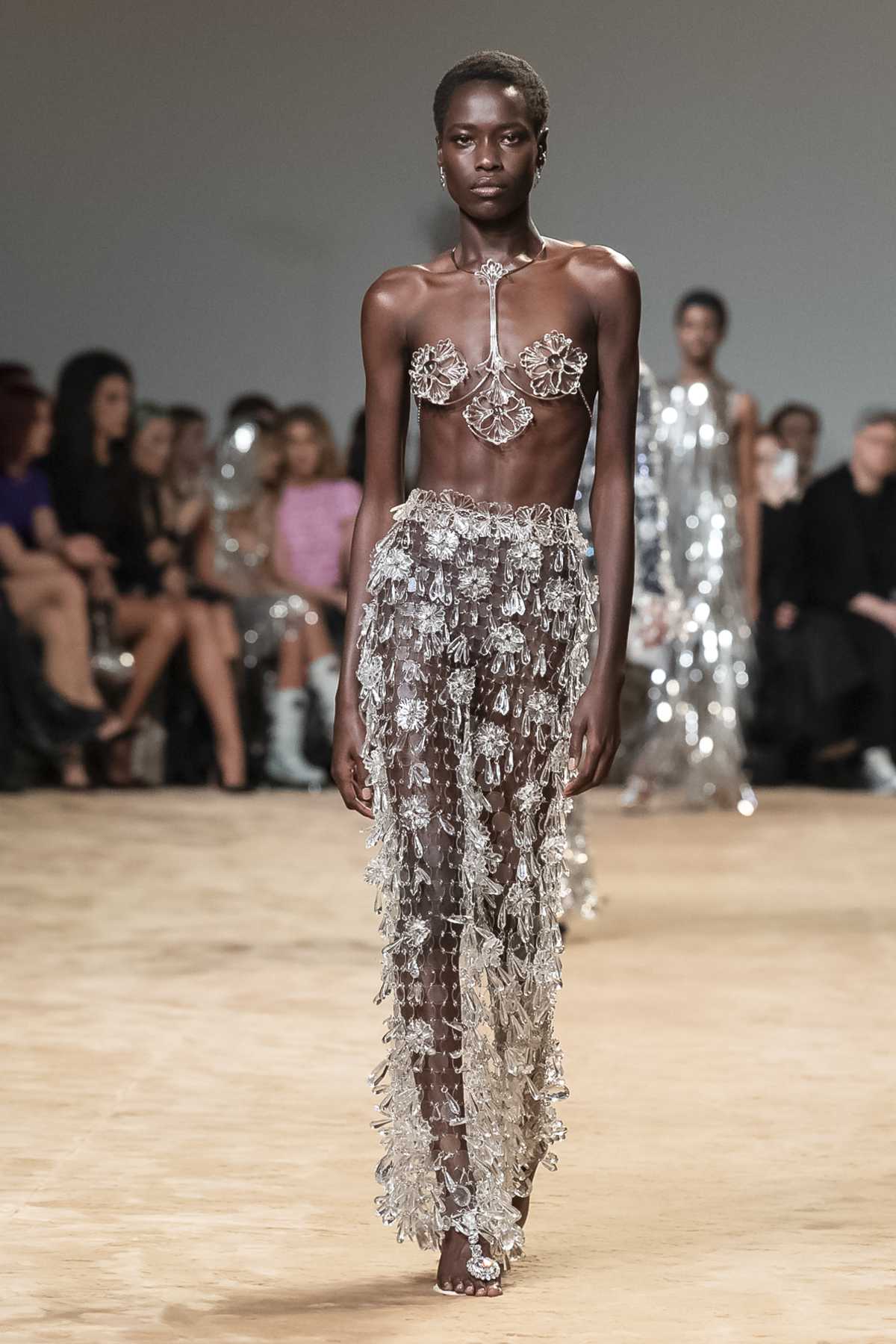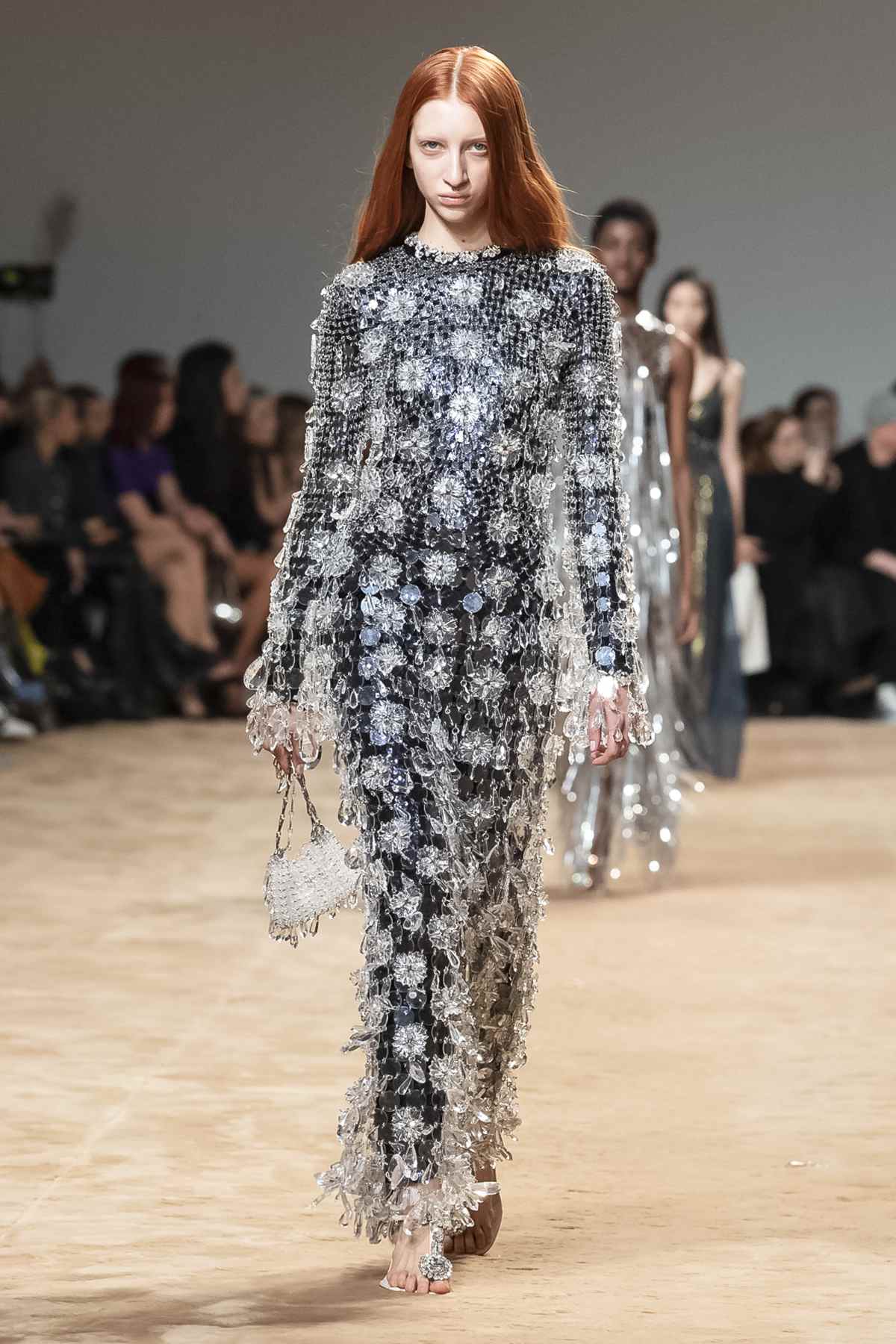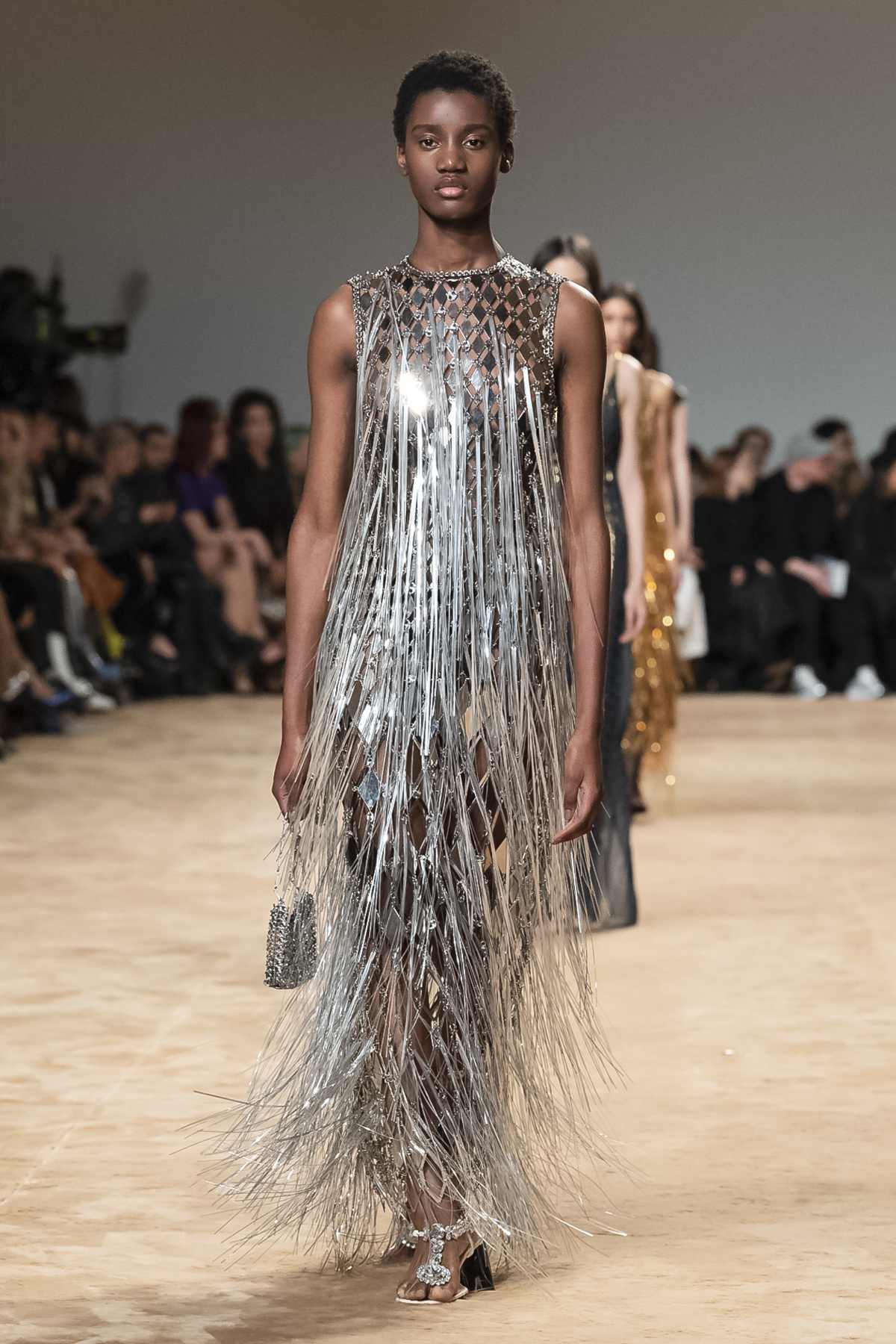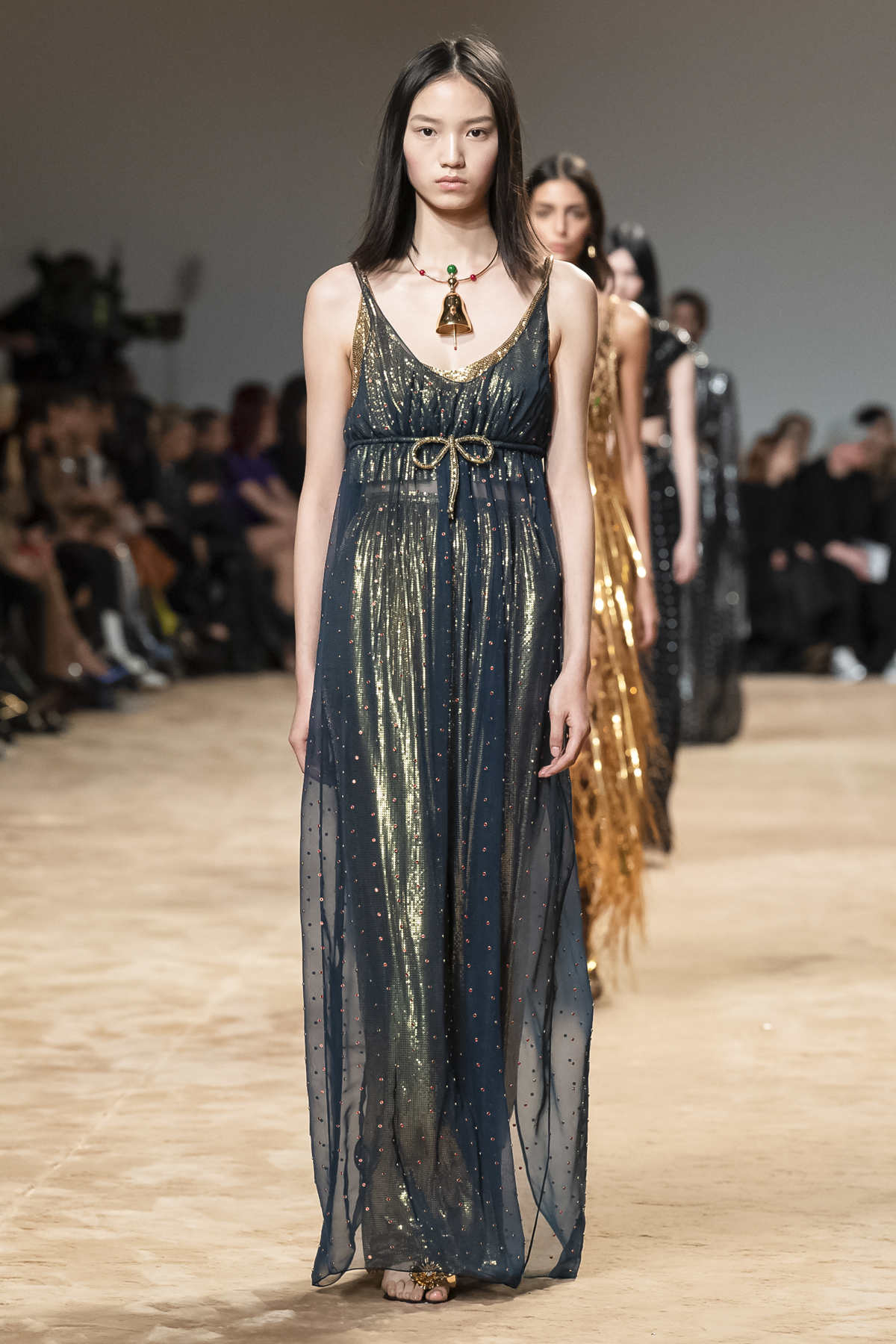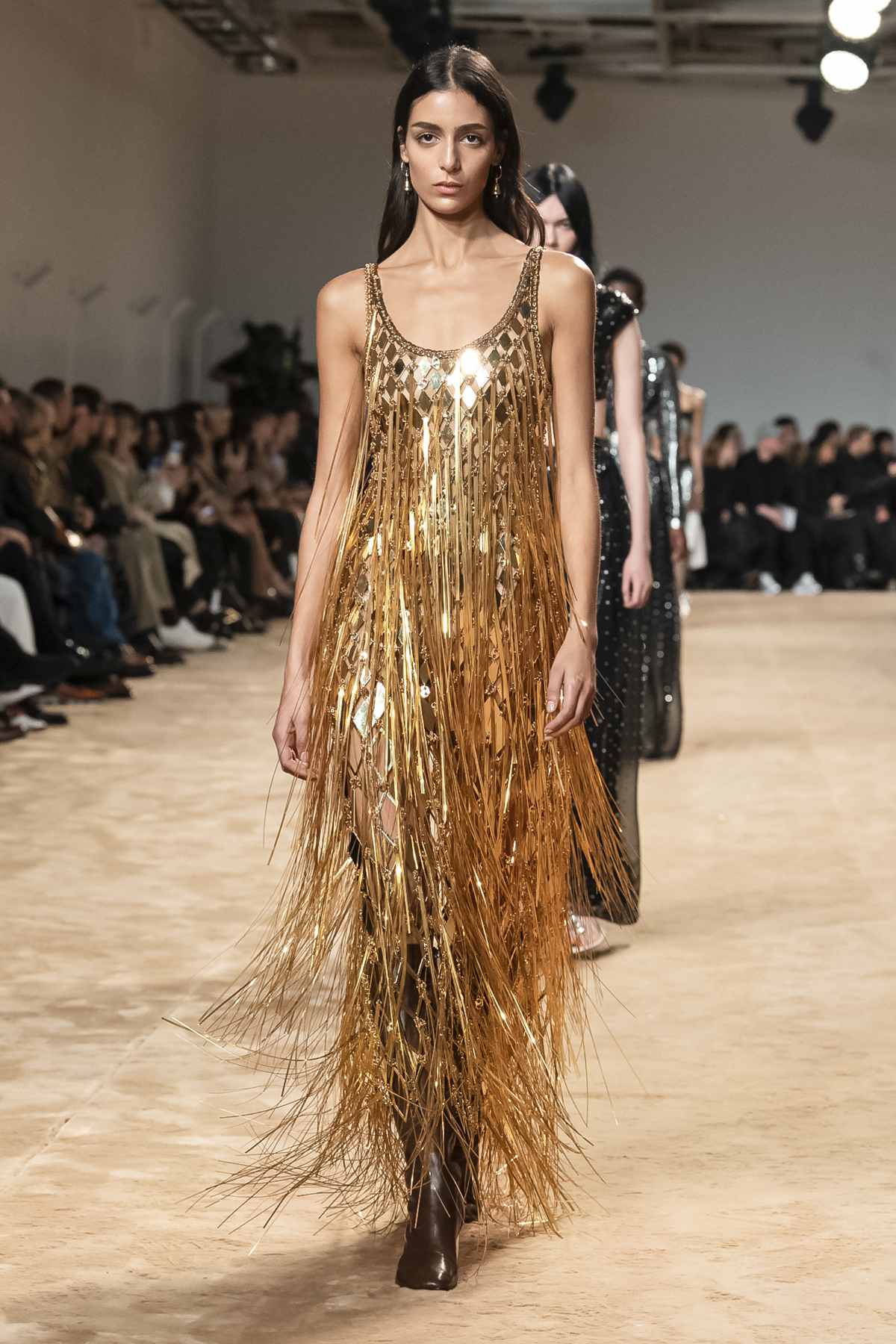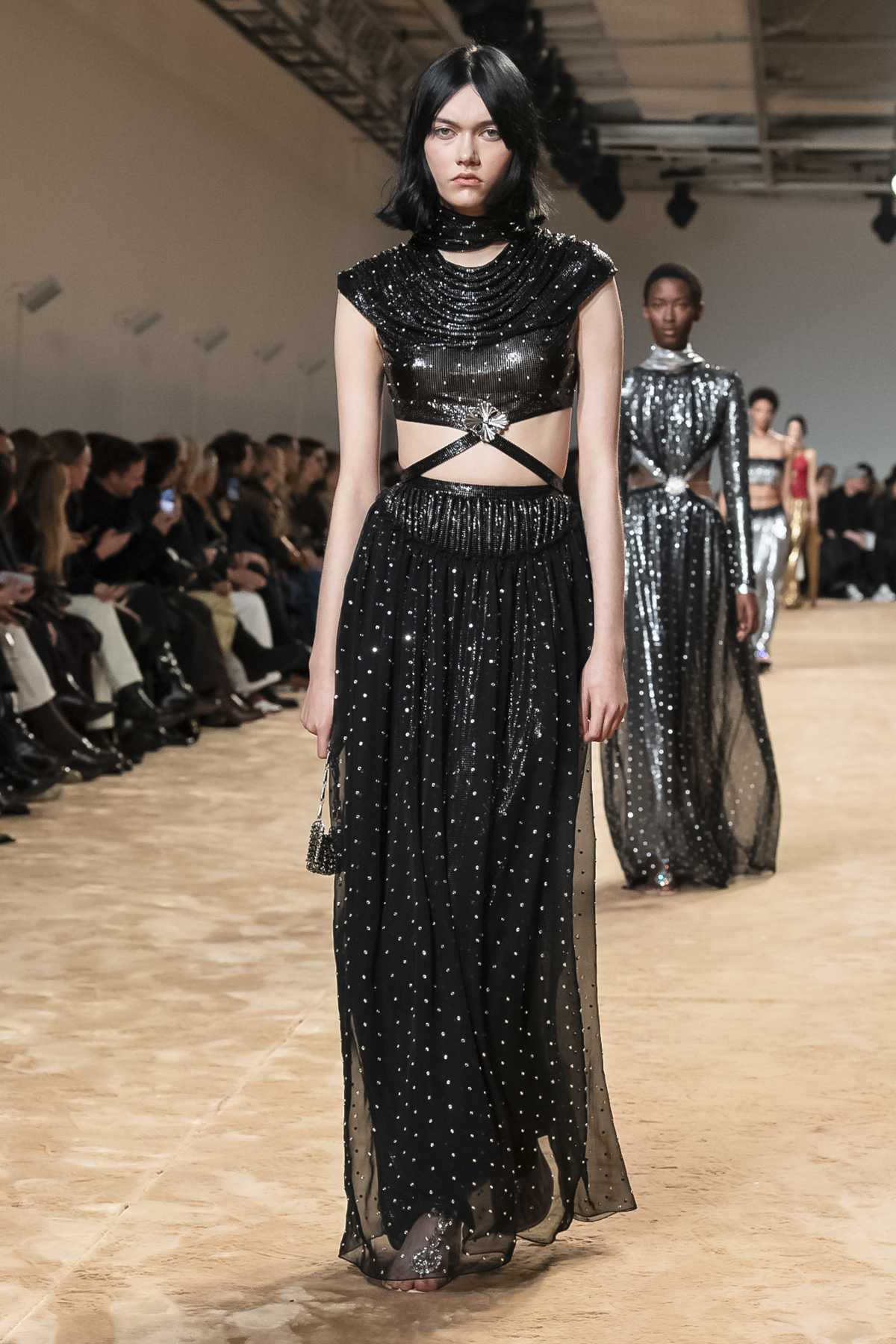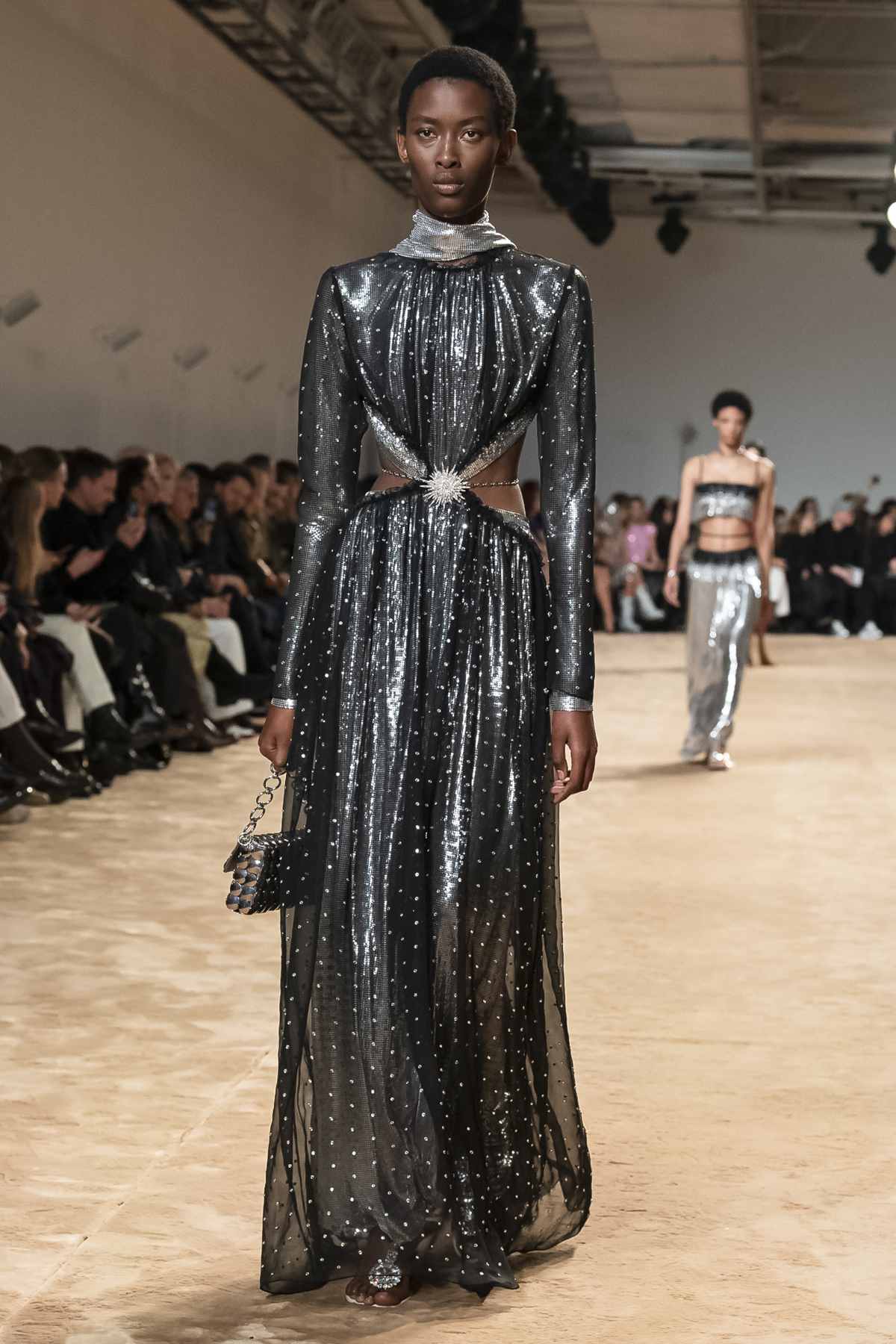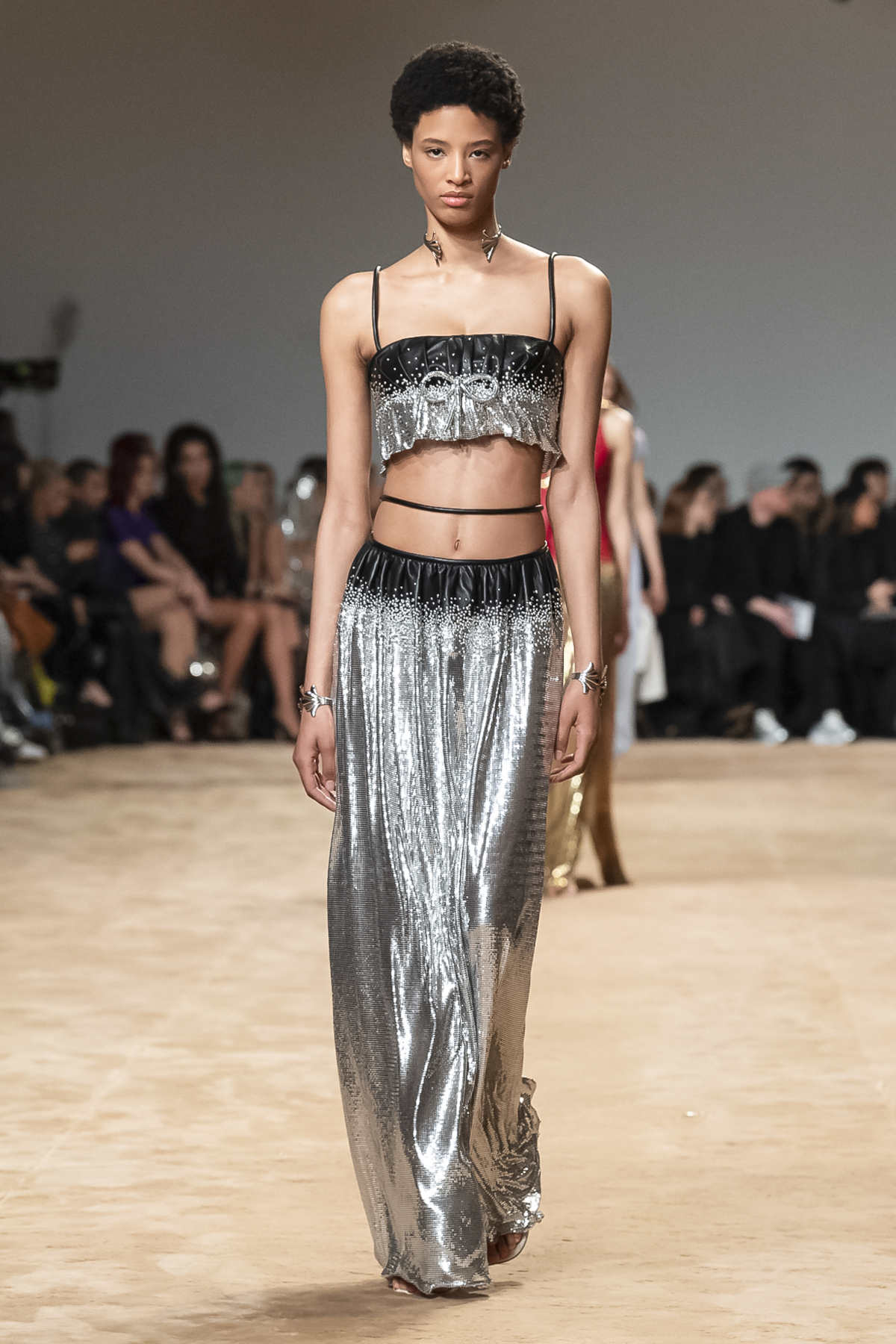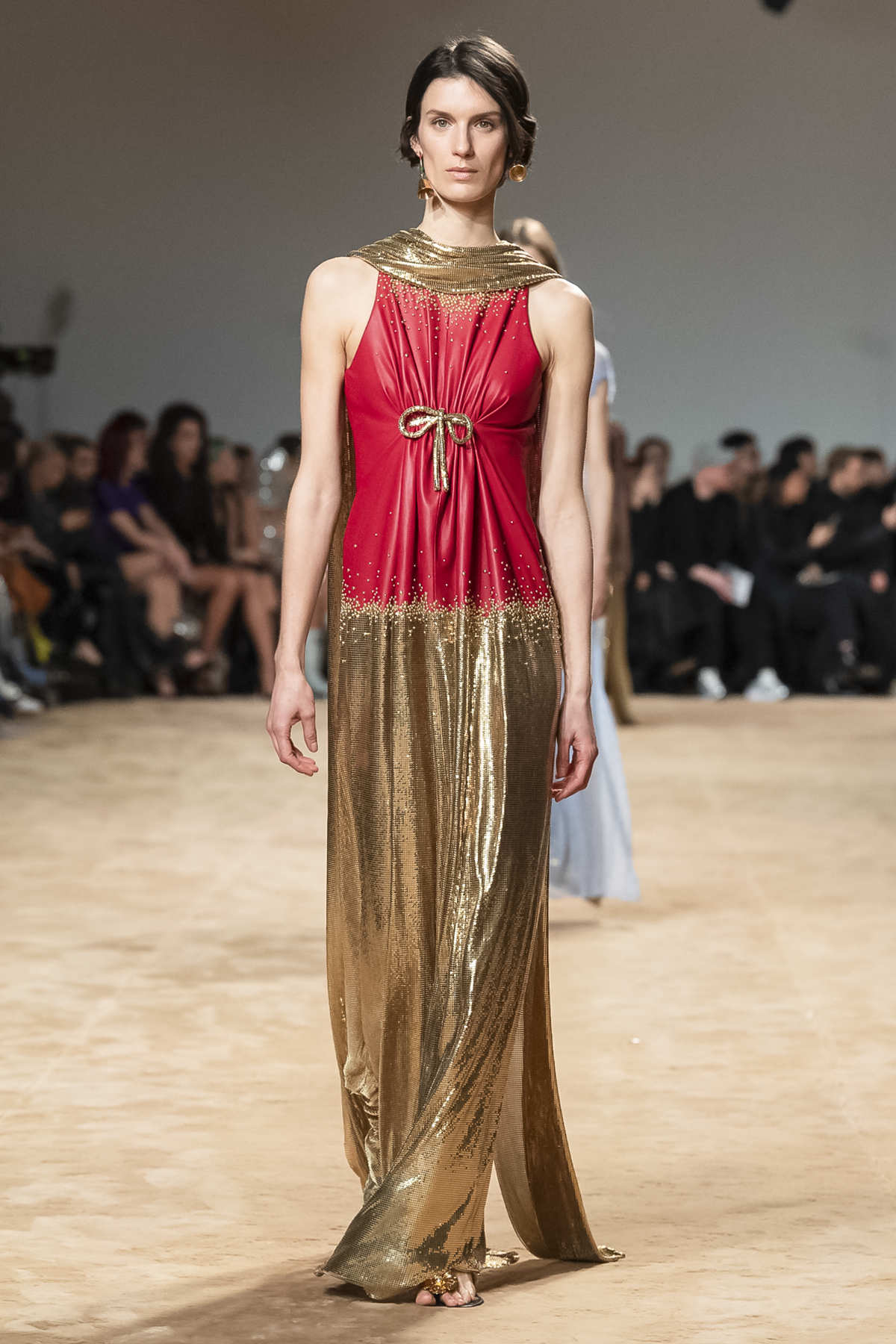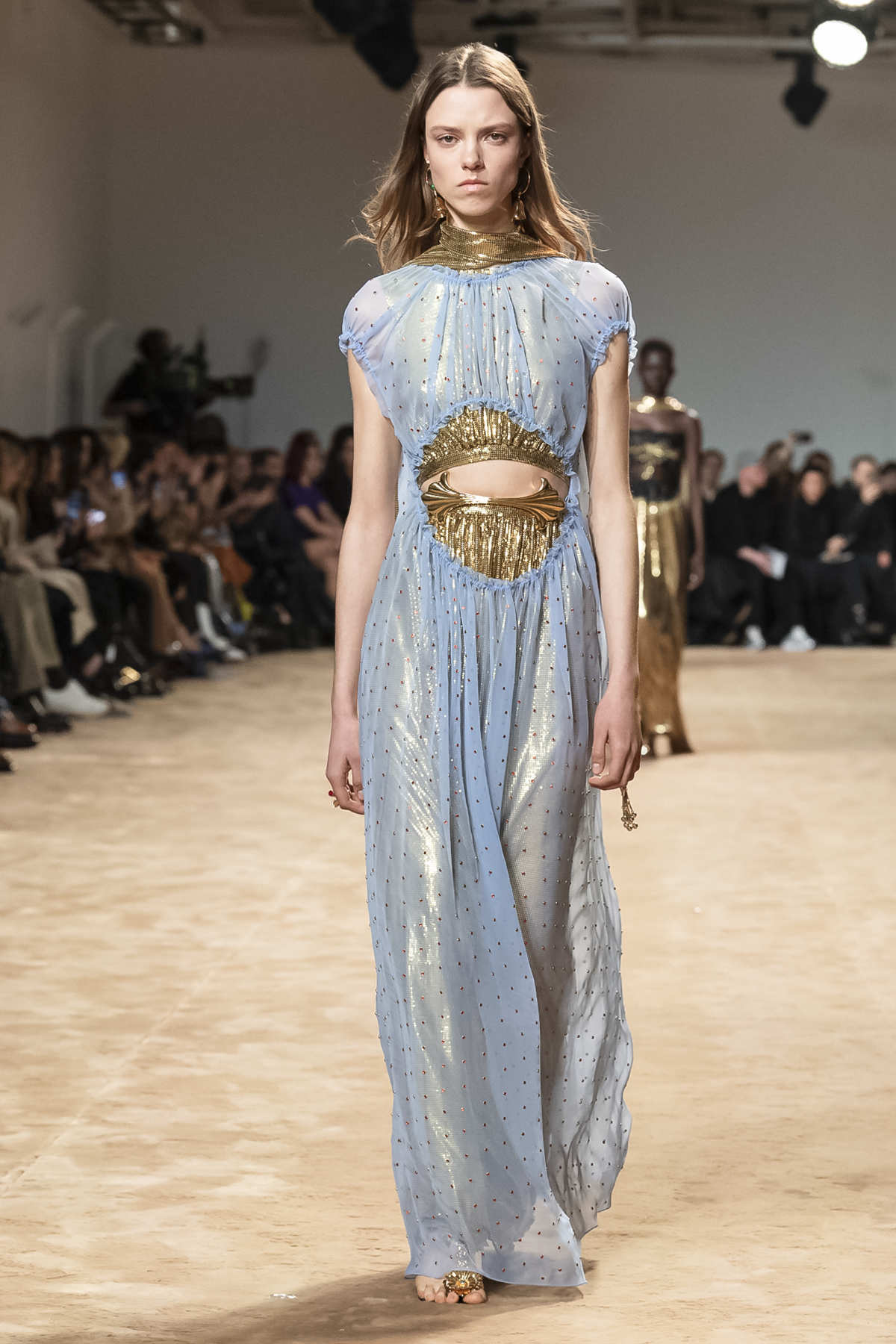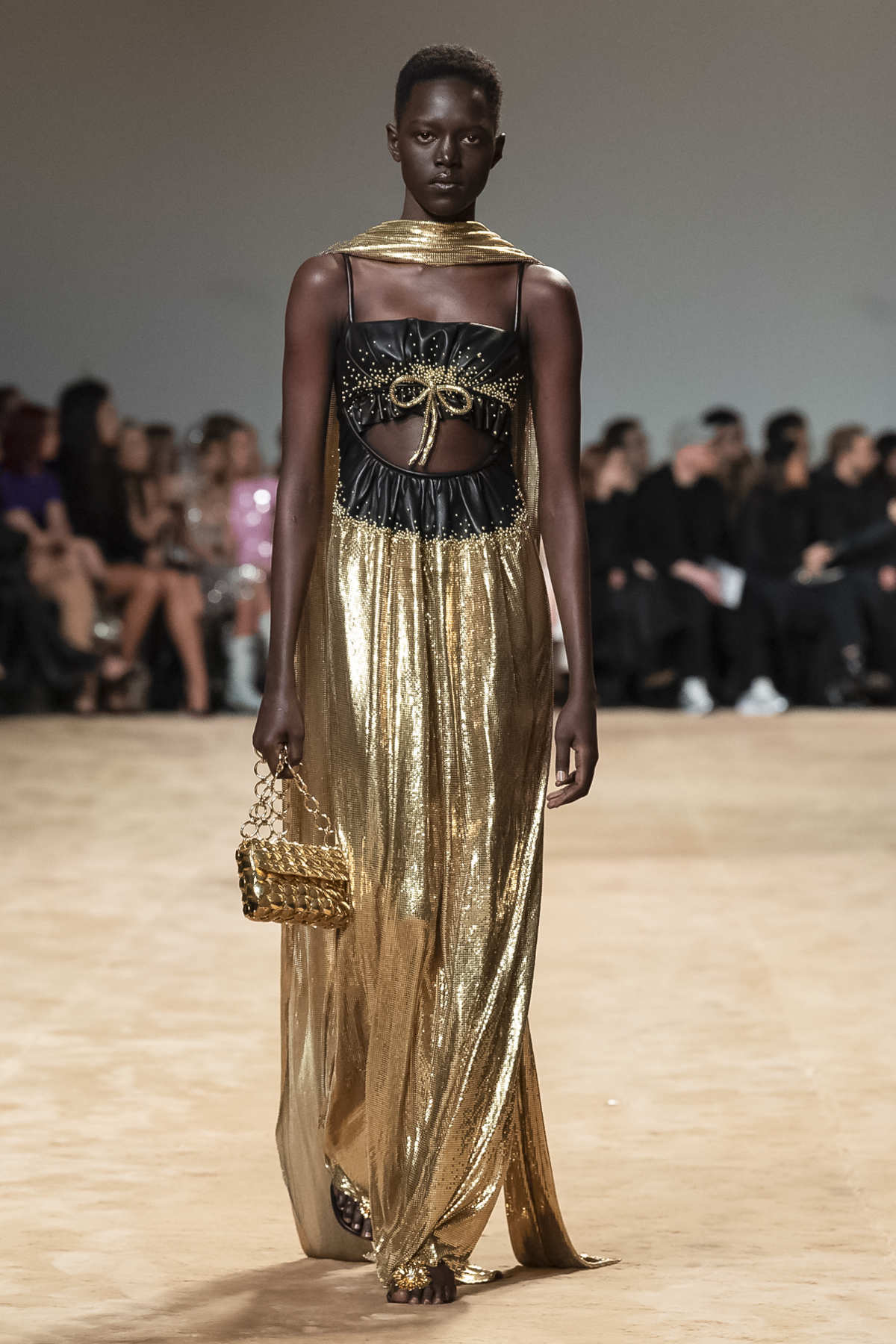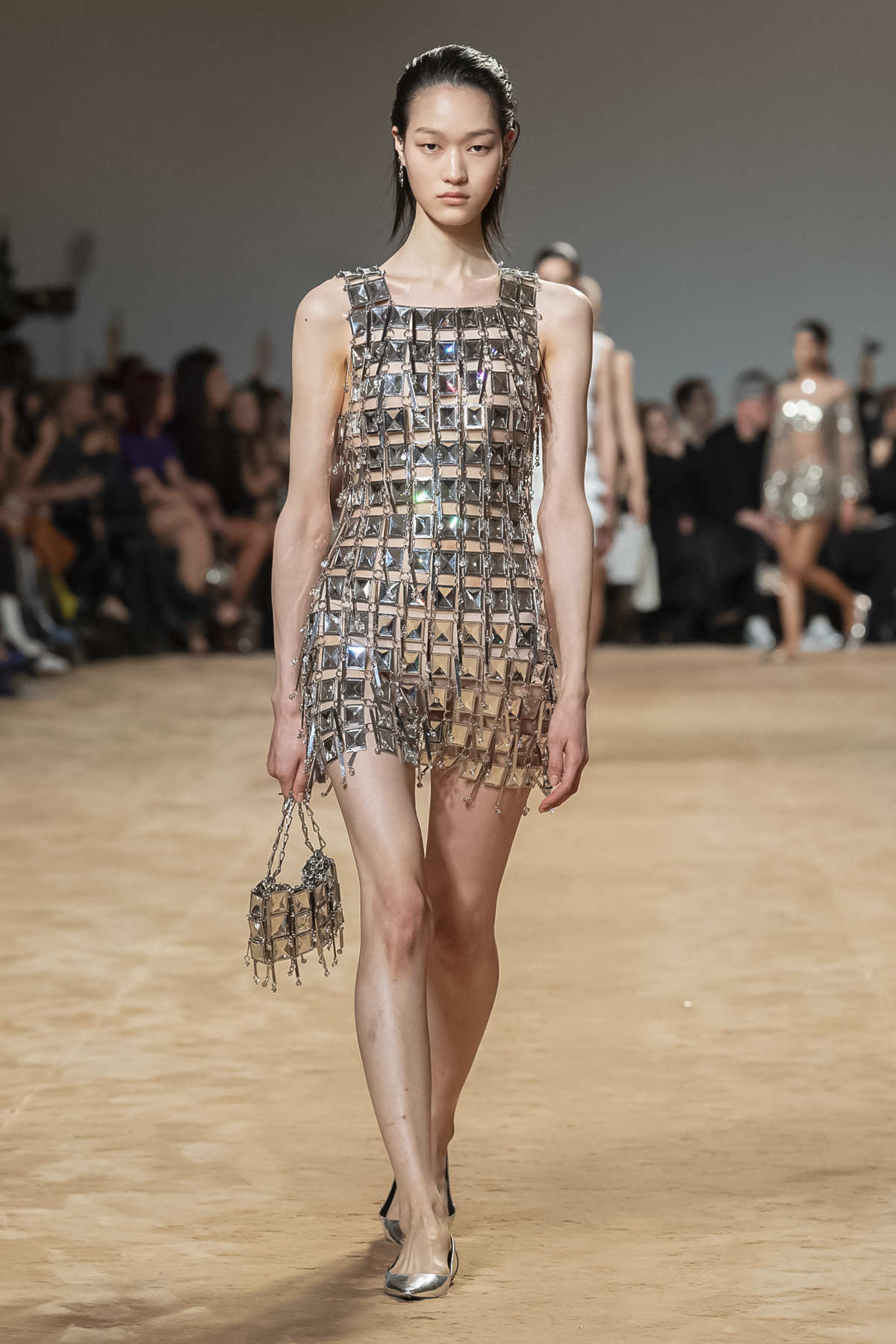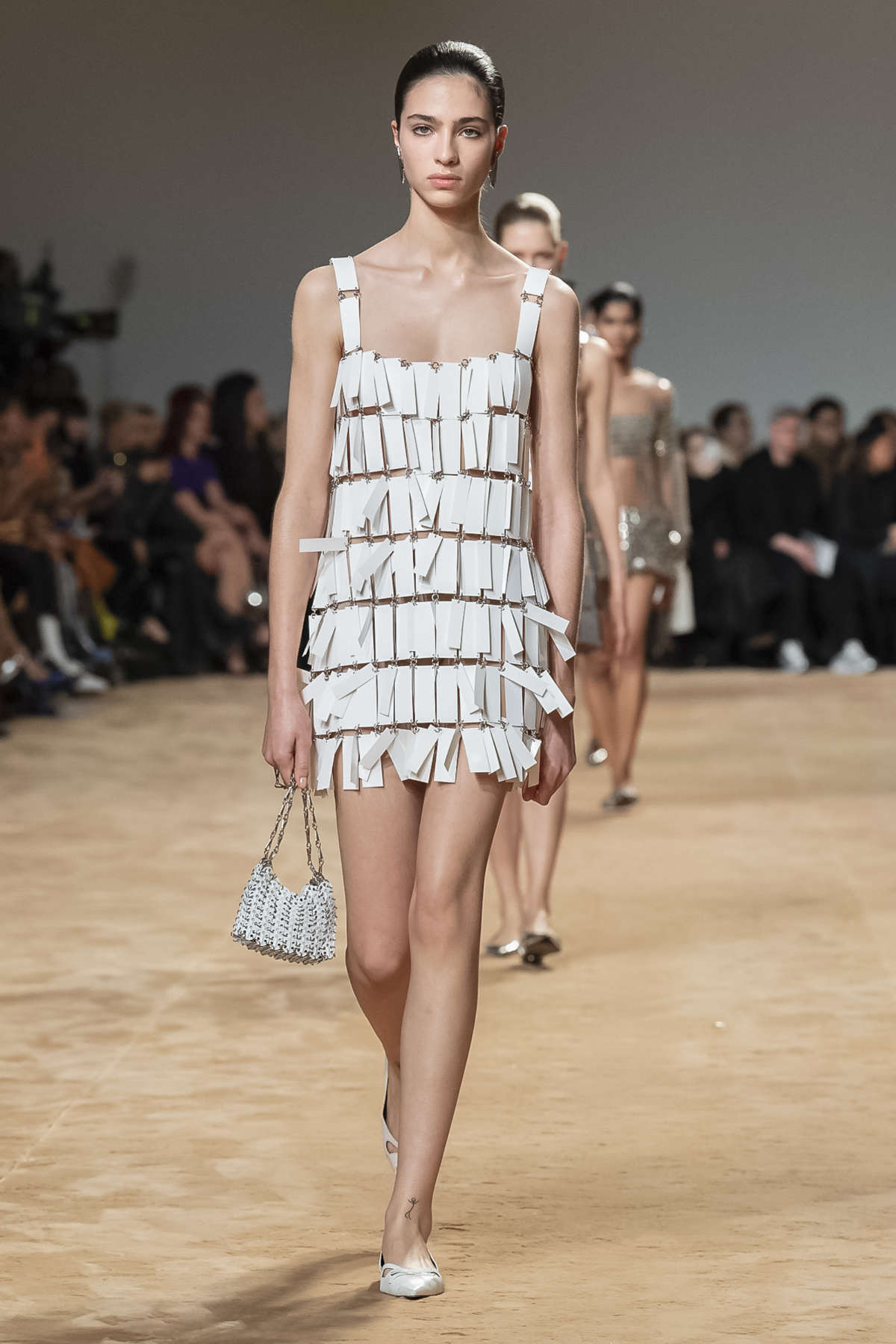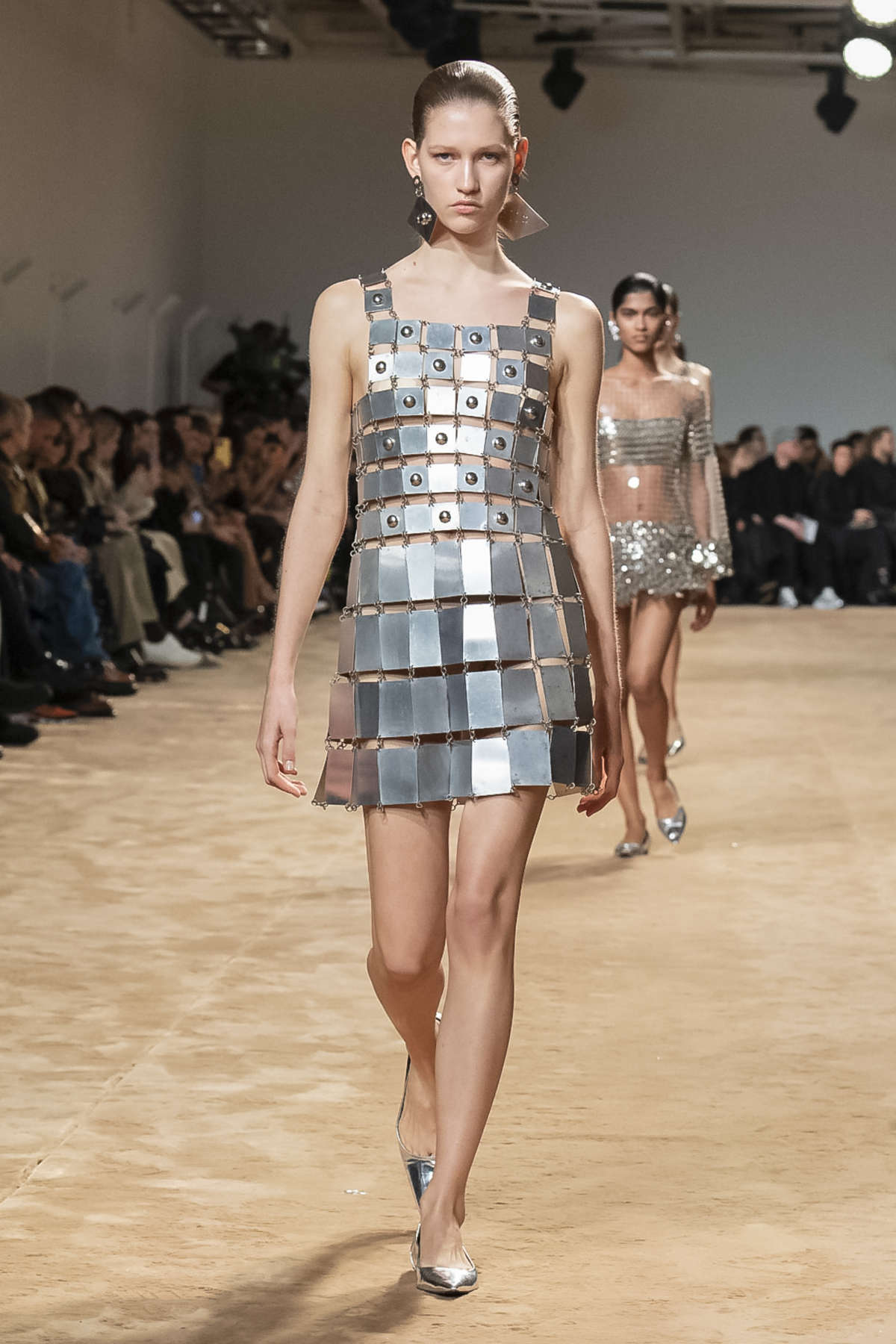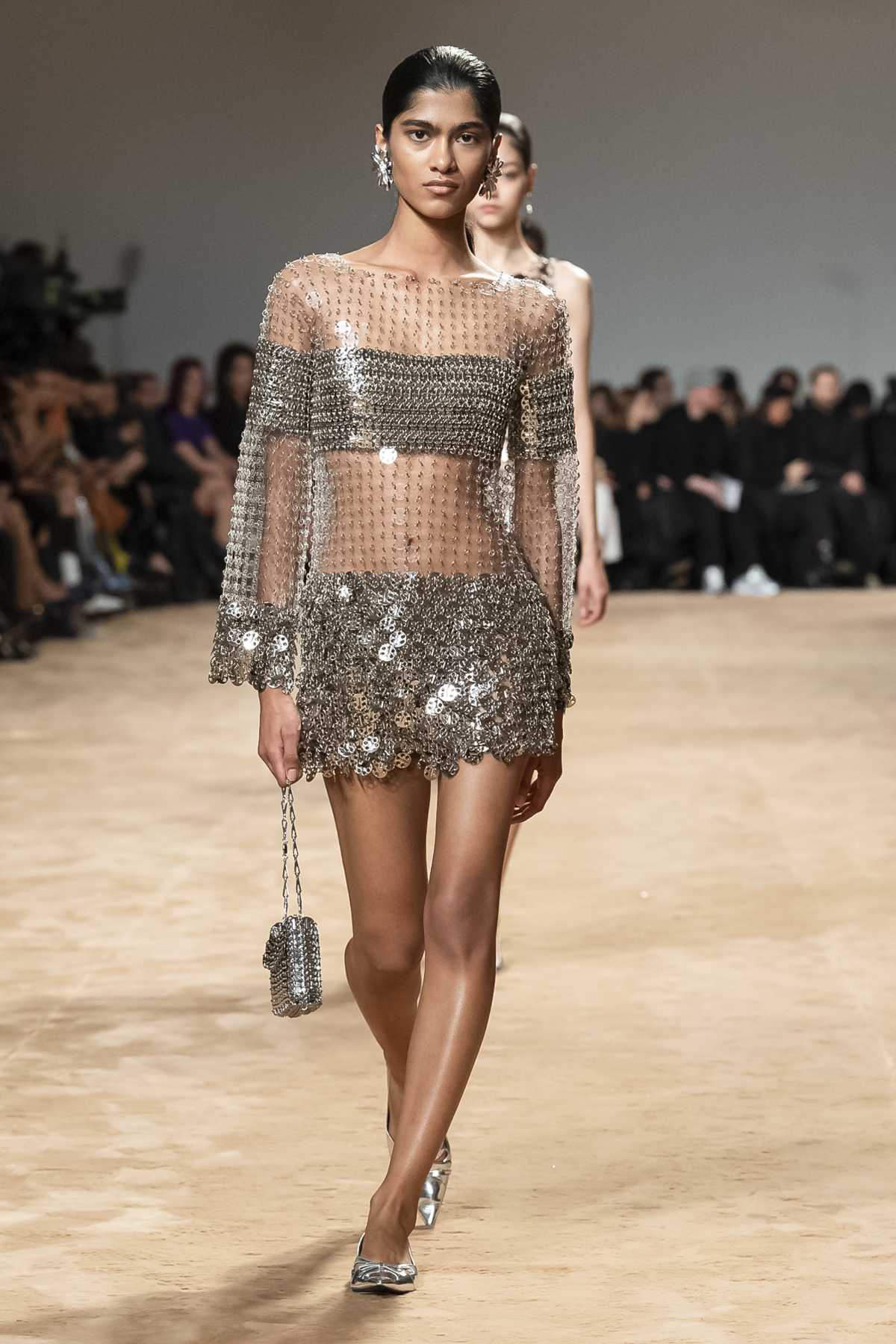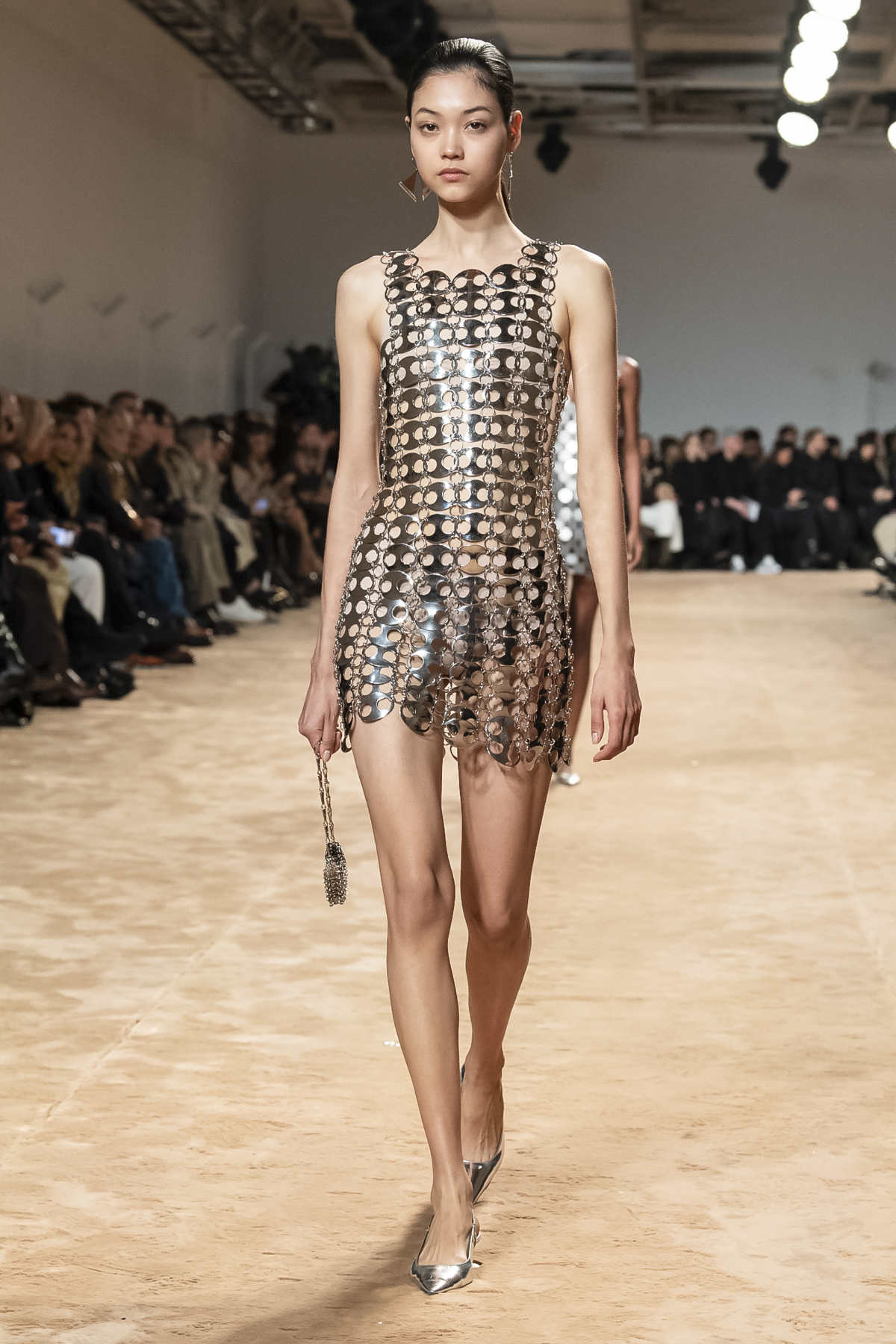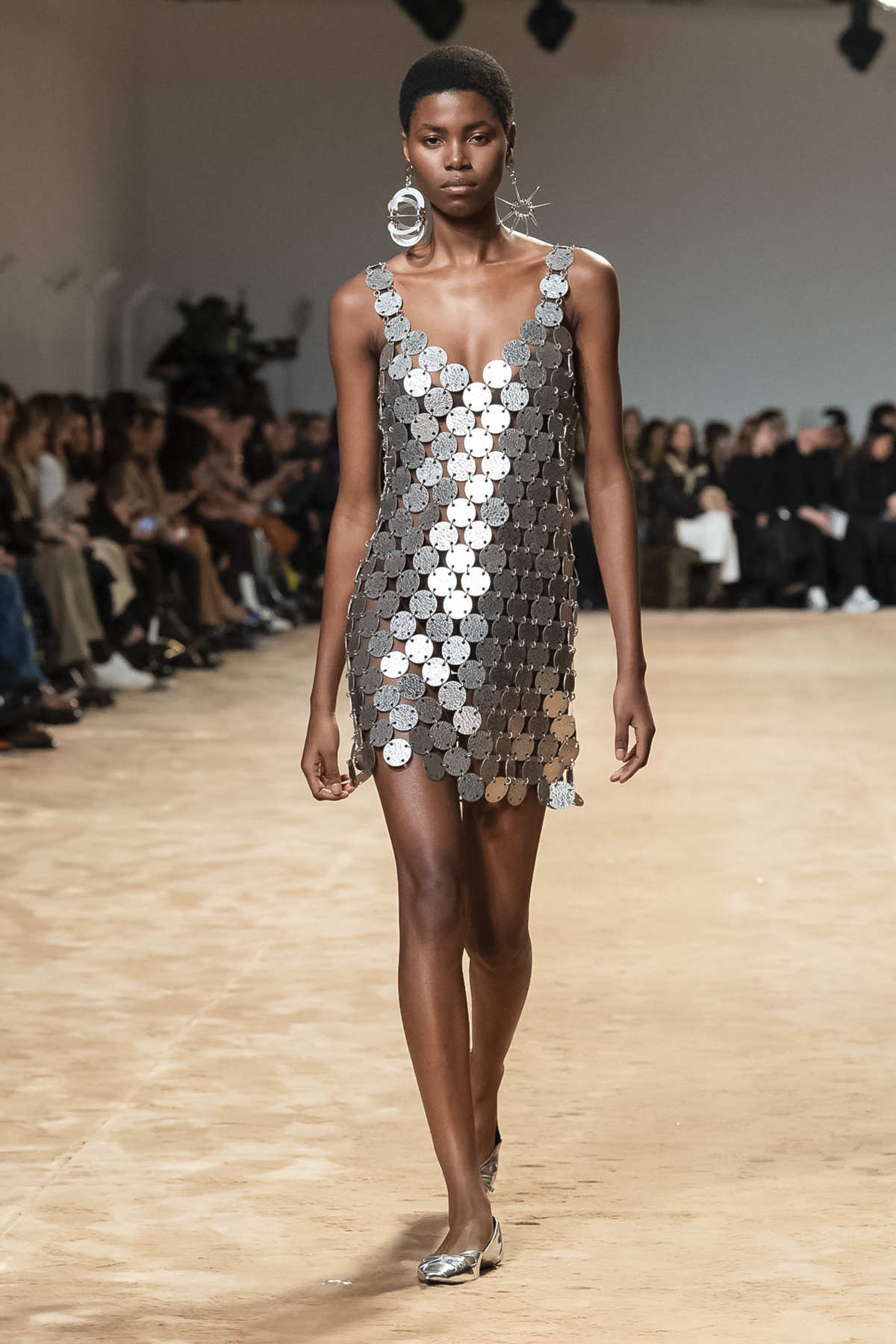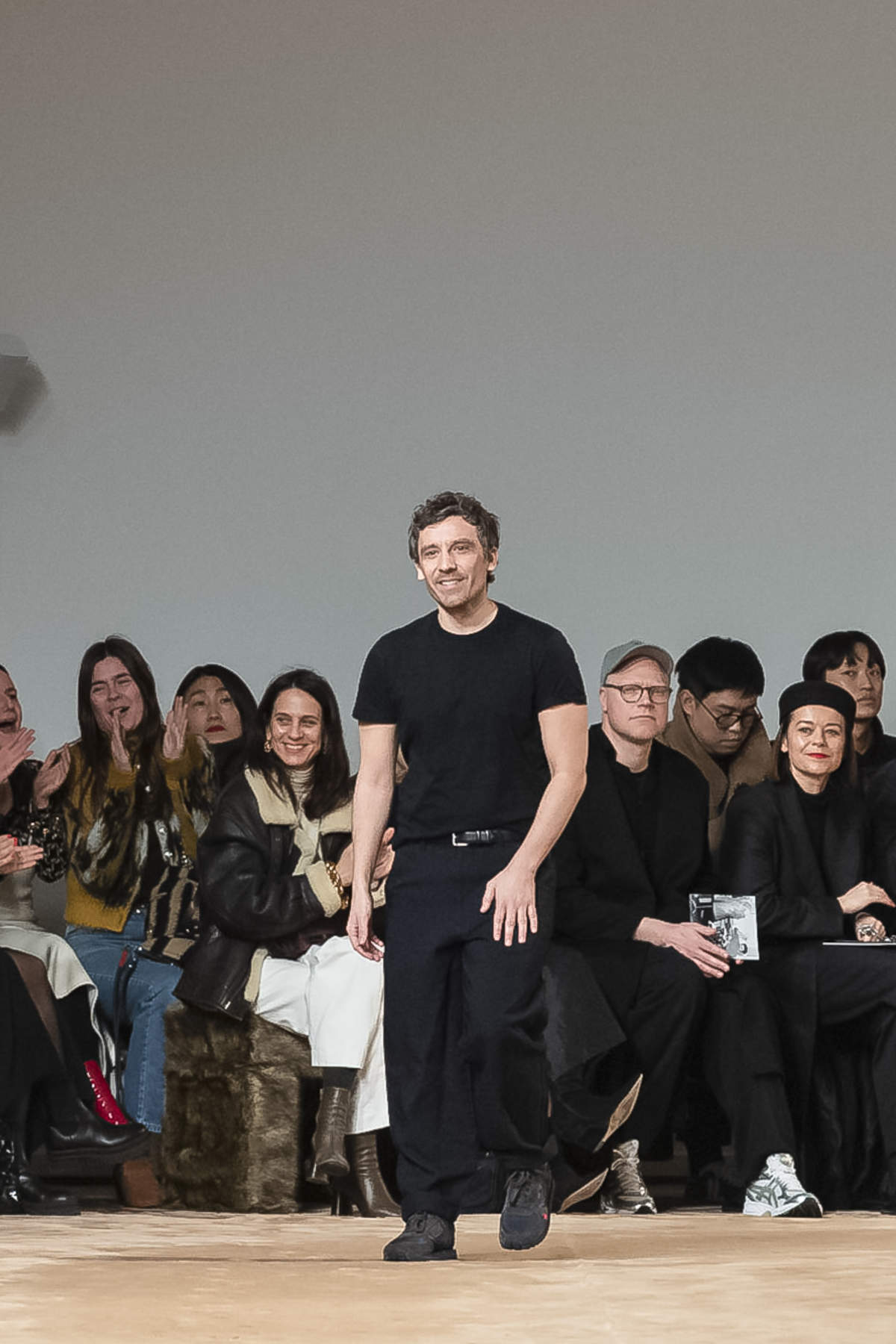 Paco Rabanne's Words
His name is Paco Rabanne. And he stands at the cutting-edge of fashion just as Soto, Agam, Schoffer or Vasarely are at the forefront of modern art.
«I am a technician with a technical background, an architect, driven by his time, fully committed to the here and now, deeply in love with our time and eager to express it through my work and what I create».1
«When I do something, I like people to know that I have done it. To see if the gesture I made is pointless or not. To see if there is a ripple effect. It's basically a gigantic… It's not an ambition, it's a gigantic curiosity. I think it's very important to be curious. You do something and then you wait, you expect to see the reaction. Whether it's good or bad, I don't care. Whether people appreciate what you do or not, I really don't care. But I like to see if there is a reaction. If people walk away feeling disgusted, I think that is great. If they stay and applaud, I think that's great.»2
«This is precisely the role of a garment: to charm, to arouse love within people. Love, this is the driving force behind any kind of activity.»3
«I think that every profession has a reason to exist, and fashion attracted me because of its external, symbolic nature. Fashion is only symbolic from an external point of view. I have made anti-fashion clothes, very special clothes with particular shapes and colours to observe the reaction on women, to experience it on women.

And it worked. You wouldn't believe how some shapes, some colours can trigger the acceptance of rejection for someone.»4
«Women have become fighters, so I dressed them in armour; and indeed, with this armour, they try to vanquish their independence from men. I believe this is very symbolic and reflects our times.»5
«By working with unusual materials, I don't go to the regular suppliers of Haute Couture. I go to ateliers, I go to factories, I go to laboratories, I go to the oddest places on earth trying to find a new material, a cloth, a canvas that could be interesting.»6
«Each garment must express something. I try to make a garment that will make one woman appear strange; another that will make her very sophisticated; another that will make her modern; another aggressive; another erotic; and still another one… Each garment, for me, is a whole.»7
«You can't be a designer of the future because the future doesn't exist. I believe I am a contemporary fashion designer. I work for contemporary fashion, with contemporary techniques, with contemporary materials. The future? I don't know what it is.»8
«Some of my garments try to reflect in clothing the same concerns as, for example, Julio Le Parc in painting. Julio Le Parc creates sculptures; he has left the canvas. He paints with pieces of metal. I also design dresses with pieces of metal.»9
«We enjoy ourselves immensely here. Basically, we make clothes, we try them on the model, and we burst out laughing for a whole day. It's wonderfully fun.»10
1, 2, 3, 7, 9, 10 Métallo de la mode : Paco Rabanne. Panorama, 1968 Collection RTF/ORTF
4 Paco Rabanne à propos de la mode, Bibliothèque de poche, 1970 Collection RTF/ORTF
5, 6 La mode métallique Paco Rabanne TF1 Actualités 20H, 1976 Collection TF1
8 Paco Rabanne, Zoom, 1967 Collection RTF/ORTF
---